King's agrees to new Dal athletic facility
$180 athletic's fee hike to come in 2015-16
December 3, 2012, 12:29 AM ADT
Last updated December 5, 2012, 10:22 AM ADT
This story has been updated since initially published.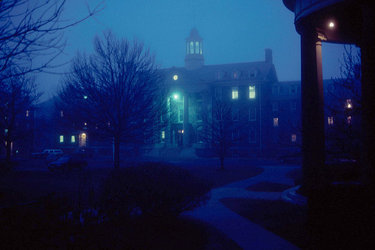 The University of King's College's board of governors decided to go against popular student opinion and opt into a new Dalhousie University athletic facility.
Starting when the facility opens, King's and Dal students will pay an additional $180 in athletic fees. It is slated to open in the 2015-16 school year, meaning current first-year students would pay the fee in their graduating year.
Seventy per cent of students who participated in a King's Students' Union (KSU) vote this week opposed the partnership and 23 per cent supported it. Almost 30 per cent of the student body voted, five per cent more than is needed for a quorum (the minimum number of votes required to be a legitimate representation of the population).
Administration's point of view
King's administration was clear from the beginning that a student vote would not be the deciding factor, but that they would take the result into consideration.
When asked why the board of governors decided to approve the project, Neil Hooper, King's athletic director said, "I think mainly to make sure there's not an inequity in services between King's and Dal students."
"The long-term benefits outweighed the concerns that were raised," he said, referring to negative feedback from students.
Consultation process
The KSU organized a town hall meeting on Nov. 27 for students and administration to discuss their respective positions on the issue. The majority of students at the meeting were opposed to the fee.
Some of the concerns brought up by students were:
The value of spending King's money on a Dal project
The need for improvements on the King's campus
The school's reputation as an academic-focused institution rather than an athletics-focused one.
"They're not just thinking about having to pay an extra $180, they're really thinking about whether this is a service they want and that's good for the school," said Anna Dubinski, student representative to the board of governors, about response from King's students.
Dubinski said while there was a productive discussion at the board of governors meeting, she is not happy with the result.
"I believe that when we're talking about a service for students that students, whether or not they feel that they need this facility, should play a larger role."
She explained that at Dalhousie the decision to build a new athletics facility was brought about by student consultation and polling. "That's what stimulated this endeavor and that wasn't done at King's," she said.
King's President George Cooper said the administration was given less than two months to decide on the issue. For that reason, Dubinski said she understands why they didn't conduct a more rigorous student consultation.
She added, "One would hope that in the future when we're discussing new facilities either on campus or at Dalhousie that we really put the time into doing our homework before we make a decision."
Reaction from a first-year
Gabriel Goodman, a first-year King's student, is more critical of the decision.
"We don't need it. We already have facilities that are adequate for what we need," he said. "It's something that Dal needs that King's doesn't."
Goodman was clear that he does not speak for other first-year students, but said he thinks his opinion is "pretty typical."
Update: Dec. 3: KSU announces "dissent from the recent Board of Governors decision to enact the new $180 per student athletics fee."