Kings and queens celebrate gender expression at MSVU
More than 350 students and faculty gathered Friday night to support the Mr. Mount competition's 15-year anniversary.
January 19, 2014, 1:40 PM ADT
Last updated January 20, 2014, 11:02 AM ADT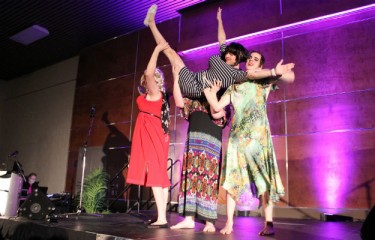 While there were no crowns to be given at Mount St. Vincent University Friday night, a Justin Bieber look-alike rose above a group of kings and queens to claim the title of Mr. Mount and a prize of $200.
The competition had its 15th anniversary this year and brought more than 350 members of faculty, students and competitors alike to celebrate diversity and acceptance within the Mount community.
Mike Collins, the host for the competition, says the show brings people of different race, colour and sexual denomination together to laugh and enjoy themselves.
"This proves that everyone has something in common, even if it's only laughter," he said.
The event had five competitors this year; three queens and two kings vying for the title or Mr. Mount.
Collins, as his alter ego Brandy Michaels, has been the host for the event since its inception. He says people can "finally, after many decades, express themselves freely and feel safe about doing it."
Ben Drake, a first-time contestant transformed into Anita Man for the competition, says the show is a good way for contestants to break out of their shell.
"It's a good way to get out there and show you're confident in yourself," he said.
Dressed in a form-fitting blue dress, Drake showed the ladies in the audience how to be sexy on a date by carefully applying lipstick and showing off his dance moves.
Drake says the competition demonstrates how accepting the university is and shows its diversity.
"No matter who you are and where you're from, we're going to accept you," he says of his school.
Dressed in PJs for the "nightwear" portion of the show, Drake placed second in the competition.
People from the many communities, groups and cliques come out every year for the event and bring the school together.
But, it's much more than just fun and games, said Abbey Ferguson, president of Mount Pride.
"The competition is important in representing gender expression," says Ferguson. She says Mr. Mount is a good way for people to better understand orientation and drag.
When the show first started it had a small venue and a small crowd. It has grown into a large event that sells out every year. Collins looks forward to the event so much that he says he'll start planning next year's event the day after.
Student Union President Zach Gallant appeared as alter ago Crystal Chandra Leer, a member of the dancing quartet The Babettes this year. He helped organize Mr. Mount and says it's his second year participating in the event.
Laughing as he points out all the cuts and bandages on his newly shaved legs, Gallant says the event is important in demonstrating how open and comfortable people can be at his school.
"It's a very welcoming environment for everybody," said Gallant. "We value the person here. It's not who you like, it's just who you are that we appreciate."