King's bookstore ups its game
The King's Co-op store is raising its profile through literary events
November 3, 2014, 1:42 PM ADT
Last updated January 8, 2015, 1:52 PM ADT
Hidden in a basement nook of one of the buildings at the University of King's College is a place where philosopher dolls sit in literary mugs, soft T-shirts hang alongside warm sweatshirts, and multi-coloured Moleskine notebooks are sprawled among bestsellers.
Students own the King's Co-op Bookstore but they do not always visit it. Meg Collins, a third-year English and political science student, hopes to change this.
She's the incoming president of the co-op's board and wants to raise the store's profile among students.
"I want to be a part of sort of fortifying (the store's) tradition and spreading its importance and its history and making students aware that it is something integral to student life," she says.
Collins was elected at the annual general meeting on Sept. 30. The board consists of four students and three non-student members. Bookstore manager Carolyn Gillis says this allows students to maintain ownership. As stated on the store's blog, it is one of the few campus bookstores in the world owned and run by students. The store was started in 2006 to tackle the high price of textbooks.
This year marks the board's largest turnover – six of the seven members are new. Since the board determines the direction of the store, Gillis says she is unsure what the turnover could mean for the coming year.
"Last year was about getting the bookstore back on track, financially, and trying to figure out what the bookstore is and what it means to people," Gillis says.
An unaudited statement of earnings, provided by Gillis, shows the bookstore had a surplus of $34,186 in 2014. That is ten times more than in 2013.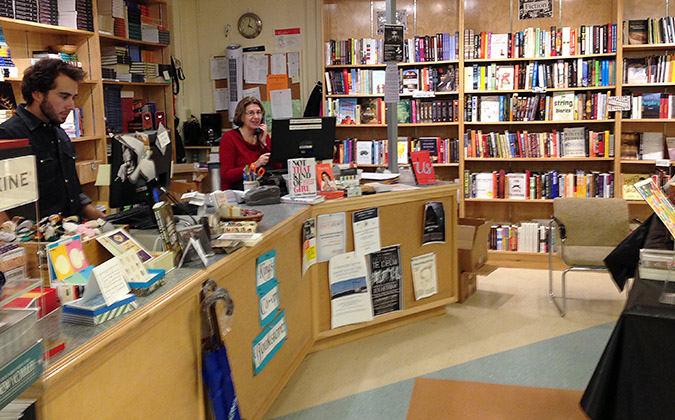 The store brought in new merchandise such as T-shirts and sweatshirts. And to raise the store's profile in the community, Gillis began to attend and host more book-related events.
Ian Kenny, the on-campus recruitment and admissions officer for King's, is the only returning member of the board. He says the events of the past year, such as the Halifax's annual Word on the Street book fair as well as author readings are helping to place the bookstore in the larger community.
It's important for the bookstore to be part of events, "a place where people know they can come as their option for a community bookstore and not just something associated with the university," Kenny says.
Gillis agrees. She's met people at events who are surprised to learn the co-op is not just a university bookstore.
The store's biggest challenge is its location in the basement of the New Academic Building. Customers need a reason to go there.
In the next year, Collins is hoping to make the bookstore more of a presence on campus through events and social media.
"Students don't connect the fact that they have a stake in the bookstore. People don't necessarily connect the dots."