King's chaplain wants more debate on Mid East involvement
Father Gary Thorne encourages Canadians to question military action against ISIS and the narrative supporting it
November 18, 2014, 12:17 PM AST
Last updated November 18, 2014, 2:56 PM AST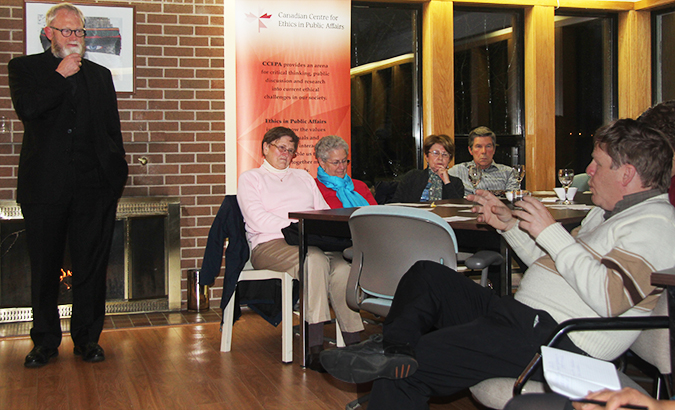 The chaplain at the University of King's College says a "culture of fear" is growing around Canada's military action in the Middle East and the only way to overcome it is to get more people talking.
Thorne was a guest on CBC Radio's Information Morning Monday and did not shy away from analyzing Canada's involvement in the bombing campaign against ISIS.
"We think of ourselves as a caring, compassionate people, but how does a caring and compassionate nation carry out daily bombing raids that kill militants and innocents alike?" he asked.
He recognized that standing by is not an option, but the retired lieutenant colonel laments the lack of discussion and the "culture of fear" he sees growing in Canada.
"Our imagination has become so diminished that we can't think of any other way to respond to this other than by violence," he said. "To come up with a solution at all there needs to be diverse voices."
Thorne continued the discussion at an event Monday evening hosted by the Canadian Centre for Ethics in Public Affairs (CCEPA). The fireside discussion was held on the campus of the Atlantic School of Theology.
"Coming into a room, we have diverse voices, where you have to sit next to a person who has a very different opinion than you have and come to respect them and love them and see their opinion and their attitude," said Thorne, who served a six-month tour as a military chaplain on the Israeli-Syrian border in 2003. "There's a basic humanity that goes beyond that."
One of the differing opinions in the room came from Lt. Col. Ian MacVicar, a doctoral candidate at Henley-Putnam University in California and a friend of Thorne's.
"There are circumstances in which pacifism is not sufficient to solve the problem," said MacVicar. "Governments tend to take direct actions which they believe will be helpful in resolving an immediate attack."
"Sometimes force is necessary to prevent situations from becoming worse," said the 37-year veteran of active and reserve military service.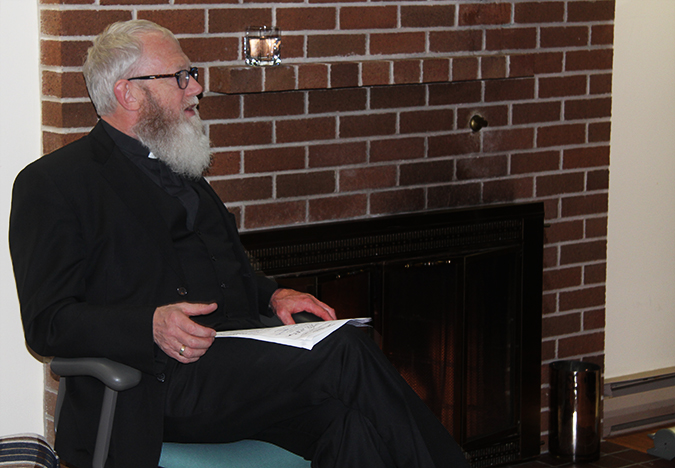 The discussion turned to the recent events in Ottawa, with Thorne critical of the spin given to Cpl. Nathan Cirillo's death.
"Cpl. Cirillo was the victim of a sudden, senseless, violent crime," said Thorne. "He might have been an extraordinarily courageous man, but he was not being particularly courageous by standing guard at a cenotaph in the Tomb of the Unknown Soldier. He did not expect and had no expectation that he was in any danger at all."
Thorne also turned his attention to the role of the media and was particularly critical of the link between the shooting in Ottawa and the bombing campaign against ISIS.
"[It's] absurd to suggest that the actions of one mentally disturbed individual with a history of substance abuse and emotional instability could possibly justify the deployment of CF-18s in the Middle East," Thorne said. "But this is what the population is getting."
About 46 people attended the event.
"The more perspectives we can have people think about, you can better inform their decision-making," said Chris Stover, the executive director of CCEPA, a joint venture from SMU and the AST.
"It's only when you talk face to face with a person that you come to respect them as a human being," said Thorne. "That's the good of a conversation like this."