King's student releases his first album
Students and alumni show support for King's musician
February 14, 2014, 7:25 PM AST
Last updated February 15, 2014, 9:43 AM AST
Thomas McCallum celebrated the release of his first album with a crowd of fellow students and alumni from the University of King's College on Wednesday night.  The event took place at The Carleton Music Bar and Grill, where McCallum performed some of the tracks off of his album "Crocus Song."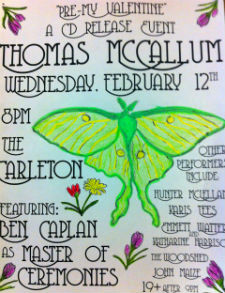 McCallum has been singing for most of his life, regularly performing with various church choirs. His love of music only deepened after coming to King's in 2009 to study classics and religious studies.
The idea for the album first occurred to him during his third year of university. McCallum wanted to write lyrics that captured everyday moments in people's lives. He began recording last summer, while working with the Trinity Anglican Church in Saint John, N.B. The result of his hard work is a five-track folk album, with a sound that draws heavily from McCallum's maritime roots.
Some of his songs are about his own life, but McCallum says he was influenced by the experiences of his friends for others. For McCallum, the most significant song on the album is the title track.
"It's the oldest song on the album," he says. "It reminds me of where I was and where I want to go. There is a line in the song that says 'I'll have my reward in due time' and I hope to work towards that. Last night certainly felt like a reward."
McCallum was happy to see familiar faces in the crowd, but he was also pleasantly surprised by the number of first- and second-year students who came out to support him.
He believes King's is an encouraging environment for any budding musician. In addition to McCallum, several other students performed for the crowd during Wednesday's event.
"They're an intelligent and critically thinking listening audience," he says in reference to the King's community.
King's was voted the second best music campus in Canada by CBC Radio 3 in September.
As for the future, McCallum plans to take a year off to tour and record new music after he graduates in May.
The album "Crocus Song" can be purchased online at McCallum's website.