King's Student Union elections today, Thursday
KSU encouraging students to get out and vote
February 11, 2015, 4:44 PM ADT
Last updated February 13, 2015, 10:13 AM ADT
A good turnout at the speeches for the upcoming King's Student Union election could mean a better voter turnout. In the past, KSU had a difficult time trying to reach their high quorum of 25 per cent. At a school of about 1,200 students, this means 300 students have to vote in this election.
About 60 people attended the election speeches Monday in the Wardroom. Current KSU President Michaela Sam says this is a very good sign.
"It was exciting to see so many people out for the speeches. There was a lot of first years out and a number of upper years and folks from all over the community."
The KSU has been trying to make elections more accessible to students. The Watch live tweeted this year's elections and the KSU put them online.
.@commonthey asks: what are you going to do for trans people? #KSUspeeches

— The Watch Live (@KingsWatchLive) February 9, 2022
Election booths also now close at 6 p.m. instead of 5 in previous years.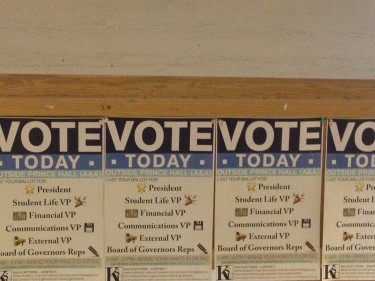 "Everyone who wants to vote has the opportunity to do so," said Sam.
Among those topics brought up in Monday night's speeches were strongly supporting King's athletics. Better mental health services at King's and Dalhousie and support for minorities on campus were also mentioned.
Sam says the student union is also cognizant of the financial issues that King's faces.
"The college is dealing with a number of administrative and governance issues in terms of staff representation, in terms of accountability at the board of governors level," she said. "King's financial situation was a large part of the candidates' platforms."
Voting will take place outside of Prince Hall in the A&A building from 9 a.m. to 6 p.m. Wednesday and Thursday.