Fitness on Campus
King's students say "no" to athletics fee
Board of governors decide outcome Nov. 29
November 28, 2012, 10:14 PM AST
Last updated December 21, 2012, 8:51 AM AST
This story has been updated since initially published.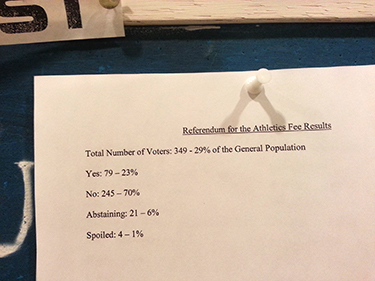 The results are in and 70 per cent of King's students who voted are opposed to a proposed $180 athletics fee hike.
Just under 30 per cent of the student body voted — a total of 349 people. Twenty-three per cent of voters were in favour of the fee, and a combined 7 per cent either abstained or spoiled their ballots.
The athletics fee is for a membership to the new fitness facility Dalhousie University plans to build. The facility is supposed to open during the 2015-16 school year.
But the results of the vote are not the deciding factor in this debate.
The university's board of governors will decide tomorrow whether to adopt the fee on behalf of future students. The majority of current King's students would never pay the fee, which would only take effect when the facility opens.
Update: Nov. 28: UNews reported that 25 per cent of students abstained or spoiled their vote, which was incorrect. Only 7 per cent of students did. The error was fixed in the story.