Ladies first? SMU prof wants classroom rule
Dal's Forum on Misogyny hears idea that women should speak first in class, public events
January 15, 2015, 8:47 PM ADT
Last updated January 19, 2015, 2:48 PM ADT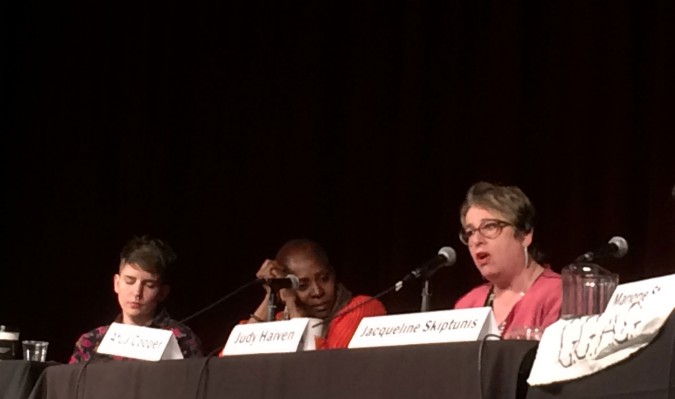 Women should be heard first in the classroom, a forum on misogyny at Dalhousie University heard Thursday.
"Men should not be allowed to monopolize these forums," Saint Mary's University management professor Judy Haiven said.
Seven panelists spoke to the crowd in the Dalhousie Student Union Building's largest conference room on Thursday to discuss misogyny on university campuses.
Haiven suggested several ideas to combat misogyny, all of them centred on promoting female participation in events.
Her idea that women should always speak first in classroom discussions and at public events was brought up several times during the forum.
Haiven said she already tries to apply this idea in her own classroom.
"(In) the management department, women get to speak first. I think that that is a primary issue that we actually have to look at, how to do question and answer (periods). And we can start today."
The misogyny forum was held on the same day that Halifax Regional Police said it would not pursue a criminal investigation in the Dalhousie dentistry scandal, after reviewing controversial Facebook posts.
Haiven's idea was met by a round of applause, but not everyone agreed with her suggestion.
The panel fielded a question from Twitter asking whether the idea would just "perpetuate the problem the other way?"
"Yes, I suppose at some point that could happen," Haiven said.
"But right now what we see is … women generally don't come forward and speak up at meetings … we see women taking a backseat.
"We see that there has to be some kind of affirmative action so that women, I hope, take a more active role in the classroom, in running things, in various student affairs. We've got a real problem."
More women are graduating with university degrees than ever before, and often take up the majority of classes, "yet you wouldn't know that."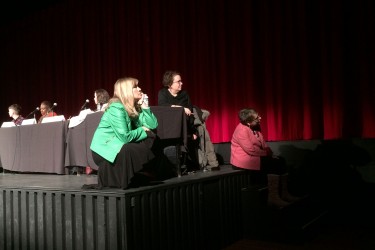 Jacqueline Skiptunis, vice-president academic and external for the Dalhousie Student Union, said she personally has been hesitant to talk in group discussions. When she did speak up, her statements were often questioned, and believed only when a man agreed with her.
Jude Ashburn agreed with Haiven.
"I think that women of colour should speak first in class," Ashburn said after the panel discussion.
Ashburn is an outreach co-ordinator for South House, a gender and sexual resource centre in Halifax, and identifies as a "non-binary trans person."
"When I do activist circles or workshops, I often say, 'OK, if you're white and you look like me and you raise your hand, I'm not going to pick on you before someone of colour.' So I do give little disclaimers, like people of colour will have priority, or if you're a person with a disability, you're pushed to the front … I mean, you know, bros fall back," Ashburn said with a laugh.
Ashburn said during the panel that they feel "burned out" when "what about the men?" is asked in "every conversation" about misogyny.
Ashburn said people can get upset with this approach, because they have to give up some privilege, a topic the forum discussed throughout the first panel of speakers.
Jacqueline Warwick said it's not the first time she's heard such a rule suggested.
Warwick is the former co-ordinator of the gender and women's studies department at Dalhousie and one of the four Dal professors who filed a complaint against Dal's restorative justice approach.
"That'll be a difficult one for people to accept," Warwick said.
"I do think, in general, there are a lot of studies that indicate women, girls are socialized not to speak first. … And so to make a conscious rule, a deliberate rule that is explicit, that 'no, men are not allowed to speak first,' is certainly a strong way of addressing that issue, but one that will at least get people thinking about it," said Warwick.
"That's already some progress, I believe."