Landlords, tenants gain with new regulations
Automatic lease roll-overs and faster eviction for late-paying renters included in the amendments
November 16, 2012, 5:01 PM ADT
Last updated November 16, 2012, 5:01 PM ADT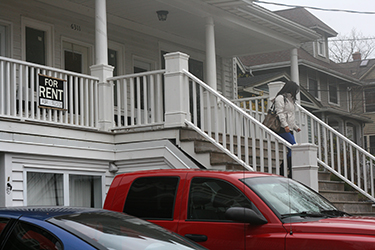 Courtney Thompson had to pack up and move after her landlord re-rented her apartment four months before the lease ended.
Thompson says she'd wanted to stay at the Coburg Road apartment for her second year studying commerce at Dalhousie University. When she went to tell her landlord, she was told the apartment had already been rented to someone else.
Changes to the provincial regulations for tenants and landlords will mean other students won't go through the same experience as Thompson.
"You could be a perfect tenant and always pay your rent on time, but without the security of tenure you'd still have to leave. Now under the new act, you would have that security after one year," says Dylan Hayward, a senior law student working at Dalhousie Legal Aid Services.
Hayward says this automatic lease roll-over is the biggest change for students and the most beneficial.
The amendments hold benefits for landlords as well. If a tenant is 15 days late on a rent payment the landlord can give them a notice to quit. A tenant would then have 15 days to either make payment or move.
Dan Sampson says this is a good thing for landlords because under the old legislation by the time the tenancy board held a hearing the tenant would be two to three months behind in rent.
As director of property management for Killam Properties, he says students generally pay their rent on time.
"I think it's because a lot of them have backing from their parents and they're here for a short period of time," says Sampson.
The Residential Tenancies office has been working for six years on the amendments that came into effect on Nov. 15. Director Dean Johnston says the focus of the changes is a balance between landlords and tenants.
Dalhousie Killam Library employee Debbie Bengay currently rents in Dartmouth Shore where she's been living since 2008. As an asthma sufferer, Bengay says the amendment allowing tenants to give early notice to end a lease due to health conditions is a positive change.
"My view is that the provincial government tried to make both landlords and tenants happy," says Hayward, "Relative to other provinces the act tends to favour landlords. While the amendments might be balanced the act is not."
Hayward is an advocate for tenants and would like to see the province change the legislation surrounding security deposits. He says there isn't enough incentive for landlords to pay back damage deposits and would like to see an amendment similar to B.C.'s regulation. If a landlord is found guilty of withholding the damage deposit they would have to pay double the amount back to the tenant.
"Why isn't that in the amendment? It seems very logical and I think that legislation would help protect tenants," says Hayward.
Sampson says students should understand the new amendments and their leases so they know what they're signing.
"The tenancy act can be a cumbersome read, there's a lot of information there," he says. "But if they don't understand, they need to ask questions."