Lecturer seeks theology of Coltrane
Visiting author Jamie Howison seeks 'God's mind' in the jazz of John Coltrane at Atlantic School of Theology, King's
January 27, 2013, 6:22 PM AST
Last updated January 29, 2013, 1:58 PM AST
Mystical experience can't be translated. Words and analogies are instruments of approximation, but according to author Jamie Howison, John Coltrane's saxophone might be the Rosetta stone.
In book released Jan. 17, "The Mind of God in that Music," the visiting speaker at the University of King's College and the Atlantic School of Theology writes about how his love of Coltrane took him from heaven to Harlem, and how the legendary saxophonist's wordless songs can be starting point for theological inquiry.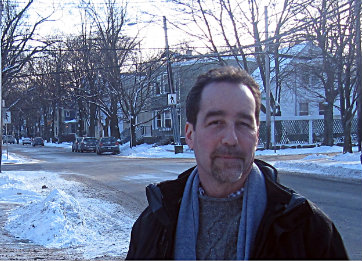 Howison, the founding pastor of the Anglican church St. Benedict's Table in Winnipeg, talks about jazz like addicts talk dope. His "entry drug" was Miles Davis's Kind of Blue, and he quickly grew into Coltrane's easy-listening classic A Love Supreme, rhapsodizing about the music's power to "take you somewhere else."
Howison, who contributed a chapter to a book about preaching rock music titled "Get Up Off Your Knees," will take his book-release tour to New York City and Princeton's theological seminary in February to share his interpretations of Coltrane's vision.
The journey into theology via jazz that would become his latest book, began when Howison was unprepared for the quantum artistic leap of Trane's experimental Meditations.
"I parked myself down in the living room, a cold snowy afternoon with the woodstove burning, pressed play — and there was this crazy explosion of sound!" he says. "I actually jumped up thinking 'something's wrong with the CD.'"
Father, Son and Holy Ghost opens with a percussive assault: "Both saxes just blowing like crazy; it sounds formless and wild."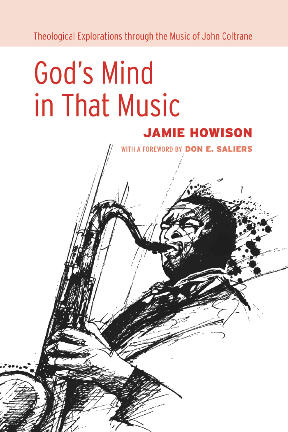 Howison recalls legendary guitarist Carlos Santana used to get up at 4 a.m. to meditate on free jazz and claimed to hear "the mind of God" on the track.
"I had to find an intellectual point of entry to make sense of it before I could embrace it emotionally," he says.
And he found one in the namesake of the track: the Christian concept of the Trinity.
"[The song has] three layers: saxophone, bass and piano, and percussion. Sometimes they're at complete conflict with each other, but they keep coming back. [Coltrane] plays this repeated melody line, over top of the wildness," he says. "I read a musicologist saying the theme is based on an old African American hymn 'Bless this House Oh Lord We Pray" — repeating the syllables fa-ther, son and ho-ly ghost."
Howison used a two-month study break to pursue the project and travelled to New York City to experience the scene that formed Trane and speak with people who knew the legend personally. He split his days in New York City between the libraries' repository of jazz lore, interviews and performances by local musicians. He squeezed in "15 shows in 30 days — from dinky clubs in Harlem, to Greenwich Village and Carnegie Hall," he says.
It's out of Howison's reverence for the improvisational power of live music that his talk at King's about Coltrane as an "cultural intellectual" and "theological musician" on Jan. 24, was preceded by a 30-minute set of live jazz.
Devil's music
Jazz is more likely to be associated with misfit bohemians such as James Baldwin and Allen Ginsberg, than believers. Jazz was once percieved as "lowbrow at best," writes Howison in a chapter that aims to dispel jazz myths.
Jazz has a rich spiritual tradition; many of the key players were raised in the church. Coltrane lived with his grandfather, an African Methodist Episcopal Zionist preacher, before relocating to New York City, and the nocturnal music culture of fast-living and addiction.
"Art Blakey, one of the legendary figures in the '40s and beyond, famously said 'jazz music is the only music that comes directly from the creator, through us and to you.' This was a creative act… they were just conduits," says Howison.
After kicking heroin and alcohol cold turkey, Coltrane had a prodigal-son moment, writing A Love Supreme after seven years clean and including a prayer dedication in the liner notes.
Howison says Coltrane understood his music as prayer and he wasn't the only one. When sax player Oliver Lake played an electrifying set in Winnipeg, Howison describes it as "just wild."
"Lake was taking it up to these high screaming registers — build, build, build — then the band swung into an old African-American hymn Won't You Walk With Me," he says.
The instruments seemed to parallel the ecstatic staccato of tongues — an observation Howison's friend and fellow concert-goer would confirm with Lake personally:
"[Lake said], 'Absolutely that's what we were doing, I'm impressed that you could hear that,'" relays Howison.
"Whether people recognize those worship connections or not, it still did this transcendent thing — and I think music can do that," he adds.
Howison is encouraged by the current epoch "where there is a huge openness [to the arts] in theological circles." He thinks art, and especially music, has always maintained a vital dialogue with faith, though he anticipates someone might take offence at his lectures on Coltrane at King's and AST.
"Jazz fans are opinionated and always right," a tendency, he's quick to affirm, which makes jazz-talk a lot like God-talk.