Little oversight of homeschooling program: auditor
Report on home schooling suggests students may be ill-prepared for university
November 21, 2012, 3:03 PM ADT
Last updated November 21, 2012, 3:28 PM ADT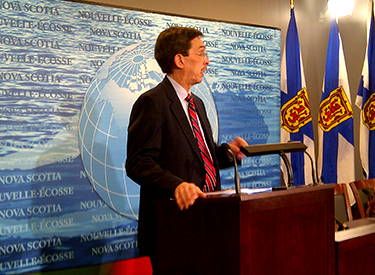 Nova Scotia's auditor general gave the province a failing grade for deficiencies in its homeschooling program.
Auditor General Jacques Lapointe says the Department of Education doesn't have expected learning outcomes for homeschooled children, it cannot track their progress and it cannot intervene if education is unfit.
These inadequacies could harm homeschooled children's future if they decide to attend post-secondary education.
"To some extent if they want to go on beyond, and a great many of them do, they have to come into the system at that point," says Lapointe about the importance of homeschooling education meeting standards to receive a high school diploma.
The report of the auditor general with the performance audit findings and recommendations was released to the public on Wednesday.
"The Department of Education is failing in its responsibility," says Lapointe. "There's no way of knowing children's progress."
He also says the homeschooling program is primarily paper-based and the paperwork is inadequate.
"They don't have enough people to manage the paper flow at the moment," says Lapointe.
One of the suggestions includes moving away from paperwork to an electronic database to make tracking students easier.
According to the report, 850 children were registered for homeschooling in 2011, compared to roughly 126,000 in public schools. Under the Education Act, all children between the ages of six and 16 must be registered for some type of schooling.
"The law gives the Department of Education the responsibility of ensuring all children are receiving the education to which they are entitled," says Lapointe. "The department cannot provide that assurance."
Lapointe notes that there are two people in the department who monitor homeschooling. He says one is responsible for managing registration, while the other is responsible for managing progress reports and proposed curricula from parents.
The audit looked at registrations and annual progress reports from parents between July 2010 and September 2012.
Lapointe says this information has not been managed efficiently. Of the 91 progress reports examined during the audit, only one includes specific details beyond parental opinion; and in only four instances did the parent submit their child's work as evidence.
Another progress report mentions a child having difficult reading. Lapointe says the department has not followed up on this case or others like it.
"We're not recommending more people. Partly because it's self-evident that the two people who are there could not possibly manage a proper program," says Lapointe. In other words, it's obvious the department could benefit from more hands.
Further recommendations for improved monitoring of the system include:
There should be clear objectives for home school students
Occasional independent assessments of students should be required
Home school programs submitted by parents should be monitored more closely
All information about registration, progress and action taken to improve progress should be documented more efficiently - using an online database
Home school students transitioning to public schools (and vice versa) or moving out of province should be monitored and tracked via the online database