Lost Cod's Frankie MacDonald shirts an instant hit on social media
Local clothing company donating proceeds of shirts to Autism N.S.
February 4, 2015, 10:17 AM ADT
Last updated February 4, 2015, 10:17 AM ADT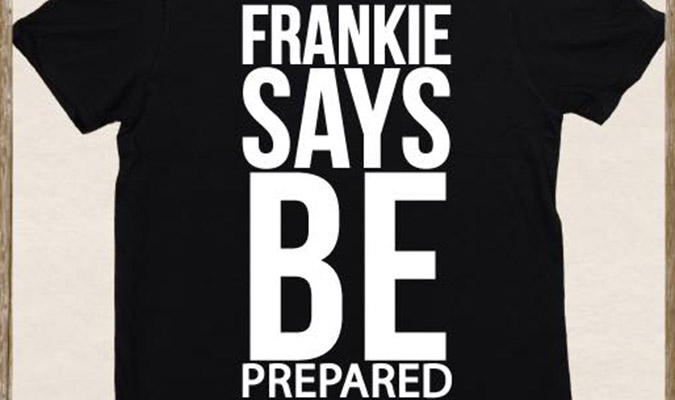 Frankie MacDonald fans can now wear his famous saying on their shirts after Lost Cod Clothing Co. announced their latest design Monday afternoon.
The local clothing store, which specializes in unique Nova Scotia designs and icons, released a photo of a black T-shirt with "Frankie says be prepared" in white block letters on their Facebook and Twitter pages.
The design is available in men's and women's premium tees for $26, and in a crewneck sweatshirt and long sleeved jersey tee for $28.
The Facebook post was shared 107 times and has more than 40 'likes'. Lost Cod Clothing's tweet announcing the production of the shirt has been retweeted 50 times.
Frankie refers to local weather celebrity Frankie MacDonald, a 30-year-old man from Sydney, N.S., who has autism. He made international headlines recently for his popular YouTube videos where he gives weather forecasts and advice on how to prepare for storms.
People took instantly to social media to argue that a portion of proceeds should go to MacDonald. Some Facebook users expressed concerns that the company was "exploiting Frankie for profit."
@LostCod It'd be cool if a percentage went to Frankie. Maybe get him a new camera or mic or something like that.

— Matt Corkum (@HalifaxTech) February 2, 2022
@LostCod Does @frankiemacd get anything from this? Might be good to put in the descriptor! — Laura W (@ellewar) February 2, 2022
Lost Cod Clothing Co. said they were in discussion with MacDonald and later announced that a percentage of proceeds from the shirts would be going to Autism Nova Scotia. They said MacDonald was not interested in receiving profits from the shirt sales.
Gordon Stevens, founder of Lost Cod Clothing Co., says, "With all of our designs it's about the story and the design of the shirt. We made the connection between the 1980s 'Frankie says Relax' shirt and Frankie MacDonald." 
"First off, it'll help to build Frankie's audience, not that he needs a lot of help with that," says Stevens. "But secondly, the more shirts that sell, the more money goes to Autism Nova Scotia."
He also hopes they will help raise autism awareness. 
The shirt design has been sent to production and is now available for pre-order. Shipping of the pre-ordered shirts will begin mid-February.