Making a difference for minorities
Local woman starts support group for queer Arabs
January 19, 2015, 3:33 PM AST
Last updated January 19, 2015, 9:53 PM AST
After 14 years of living in Halifax, Liane Khoury told herself it's time to stop feeling so alone. As a queer Arab, Khoury says it's hard to feel like you belong anywhere.
"I wasn't connected to either groups: the queer group or the Middle Eastern community," said the part-time student at Dalhousie.
That was the inspiration behind creating a new group for queer Arabs. Khoury said she wanted to create a safe space for people in similar situations to her. The group is, at its core, confidential. She says even if you are not out to your friends or family you can come to the meetings.
"I just want this to be a comfortable space for them to be who they are, even just for a little while. Then go back to whatever they're hiding from."
Khoury moved to Canada from Jordan in 2002 to start school at Dal. She had been questioning her sexuality when she was younger but it was never something that was talked about. Once she moved to Halifax she knew she had to do something about it.
Khoury is out to many of her friends in Halifax, but not to her family and friends back home. She says she understands why many people from the Middle East still find it difficult to come out in Halifax.
"Many people have this feeling that they're not supposed to feel this way because of Middle Eastern traditions," she said. "They feel scared because they don't want to feel that way."
She says that DalOUT, South House and the Rainbow Refugee Association of Nova Scotia have already reached out in support of her group.
DalOUT pitches in
The first thing Mohammed Alshtail noticed about Khoury's poster was the use of the politically correct term for homosexual in Arabic, opposed to the commonly used derogatory term.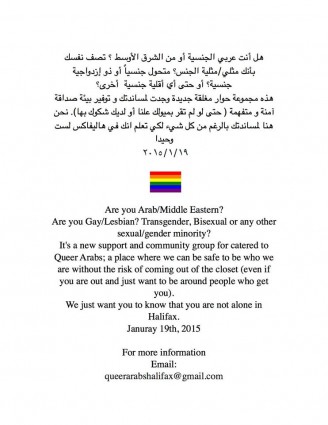 "You rarely see that," he said. "You can tell this person cares."
Alshtail is the diversity co-ordinator for DalOUT. He says he doesn't see as much diversity as he would like in the Dalhousie LGBTQ organization. He says the majority of people they see are white Canadians.
As a gay man from Kuwait, Alshtail knows the difficulties of being a queer Arab.
"Back home I belong to the country but not to the society. Here I belong to the society, but it's not my country."
Alshtail is out in Halifax but he says he knows how challenging it is to come out even in a country where it is legal.
"(People) are terrorized by their own home country," he said. "In the Middle East you would be prosecuted, and in some countries you would be jailed or even killed."
As for Khoury's group, Alshtail says he wants to help in any way he can.
"I'm really thankful that there are such people who are like, 'Hey you're not judged here'."
The courage to help others
When asked what her biggest fears were creating this group, Khoury could think only of others.
"I'm more worried about the safety of the people who join," she said. "I'm a bit of a mother hen actually, I just want to take care of you and feed you and protect you."
Khoury started to put posters up for the group last week. She's hoping to start meetings in early February.
On her posters she called out to both Arabs and Muslims. Although she says, at least for the first little while, she hopes to keep religion out of the group.
"If we do bring religion in, it will be very individualised," she said. "So people won't say, 'Oh no we don't do this in our religion'."
Although Khoury is nervous about the backlash she may receive, she is more concerned about the well-being of queer Arabs in the city.
"This needs to be done. I need to start being supportive and build something for these people."