Making Otherwise: Art, craft and involvement
A contemporary exhibit presents a different kind of art at Mount Saint Vincent Art Gallery
November 3, 2014, 3:55 PM ADT
Last updated November 24, 2014, 4:13 PM ADT
It's a quirky display of varying art forms, from pottery and clay sculptures to basket weaving and videos of knitting.
The vision, pieced together by curator Heather Anderson, is one of merging art and craft, abstract and practical. Making Otherwise: Craft and Material Fluency in Contemporary Art is the exhibit featured at Mount Saint Vincent Art Gallery until Nov. 30.
"Artists who are using craft materials and approaches and concepts in their work," Anderson says, are ones that she wanted to showcase.
Mark Courtemanche, one of the featured artists, used clay to sculpt an array of beautiful, hand painted and fully functional tools. His upbringing inspired him to build these pieces.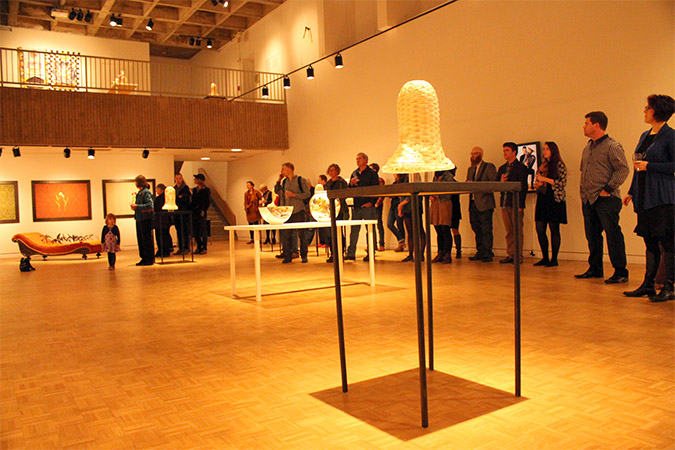 The hammers, wrenches and more resemble those you would see in an old tool shed, and the clay wood shavings in the dustpan make you feel like you are standing in your grandfather's workshop.
For Courtemanche, it was about "making someone see something that's practical in a different light."
"Everything here works. Everything you see here is fully functional."
Courtemanche's desire to make the functional artistic inspired Anderson to look at the hand-made in a different light.
"He said 'to make something otherwise,' and that's where the idea for the show came from."
The exhibit is spread across two levels of the gallery, featuring moody lighting. Music from one of the video pieces quietly fills the room. Each artist featured brought different styles and emotions to the space.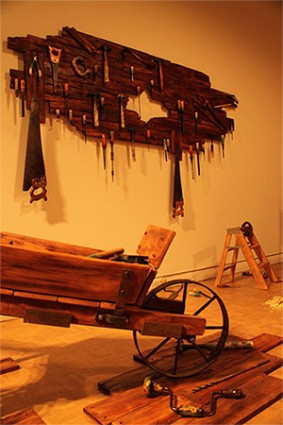 All parts tie together neatly. Basket head masks are found on the main floor, but one is seen alone on the second floor. Four intricately painted vases are placed on a table upstairs, and their partners, a large bowl and pot, are downstairs.
Susan Wolf is the gallery's program director and her passion for the art displayed, as well as others' appreciation for art, motivates her to bring in different art forms, and to keep encouraging newcomers to the gallery.
"It's open to the public as large, as well as the university public and art-loving publics," she says. "We also really try to expand our programming to people that would not otherwise be going into galleries."
"I tailor tours to the classes, based on what the classes are, but underneath that there is sort of general information about how to be an empowered viewer, about how to begin teasing apart the visual language or the audio language that you're confronted with."
The gallery is a resource for students at the Mount and other universities around the city. And Wolf loves the idea of introducing art and exhibits to those who aren't familiar with the scene.