Making roofs greener at Saint Mary's
University conducting scientific research high above campus
November 3, 2014, 11:37 AM ADT
Last updated January 13, 2015, 11:47 AM ADT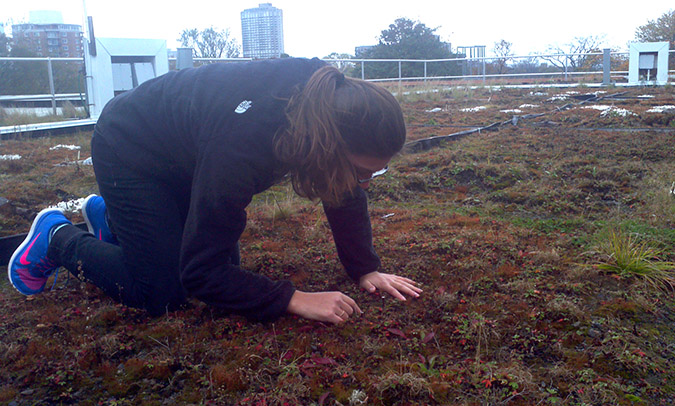 You won't find people sprawled out reading or throwing a football on the green roofs at Saint Mary's University. That's because these roof are for research, not relaxing.
Researchers at Saint Mary's are interested in learning which plants absorb the most sunlight, trap the most heat and capture the most rainwater. The research will help to build more efficient green roofs that lower heating and air conditioning costs while also protecting against rainwater damage, says Emily Walker, a master's student at the university.
The roof of the Saint Mary's Atrium building is neatly arranged into squares of dirt, small plants and moss. A second green roof is on top of the Patrick Power Library and consists of a greenhouse, rainwater capture systems and more plots of land similar to those above the atrium.
In order to complete their research, students and professors grow a variety of plants on the rooftop. Walker says diversity not only provides a number of plants to independently study, but is also important to overall sustainability of the roof
"A mixture of plants is likely to contain some species that can withstand (extreme weather) events and recolonize the roof in a relatively short period of time," Walker says.
Diversity also plays an important role in pest control. A green roof consisting of a single type of plant is more likely to be ruined by aphids and other insects, Walker adds.
In 2012 the Nova Scotia Community College established a research-based green roof above its Centre for the Built Environment. Researchers are measuring the strain on the roof caused by the plants as well as testing different types of green roofing, says Dr. Alain Joseph, an applied energy scientist at the college. This research is being done in conjunction with Saint Mary's.
Joseph says that the college is focused more on the strain of green roofs on a building's structure rather than more measurable data like the amount of water certain plants hold. But there is section of the roof that has a similar set up to Saint Mary's.