Man found sleeping in King's residence hallway
King's students concerned about security in Angels' Roost residence
November 5, 2014, 5:03 PM AST
Last updated November 25, 2014, 6:59 AM AST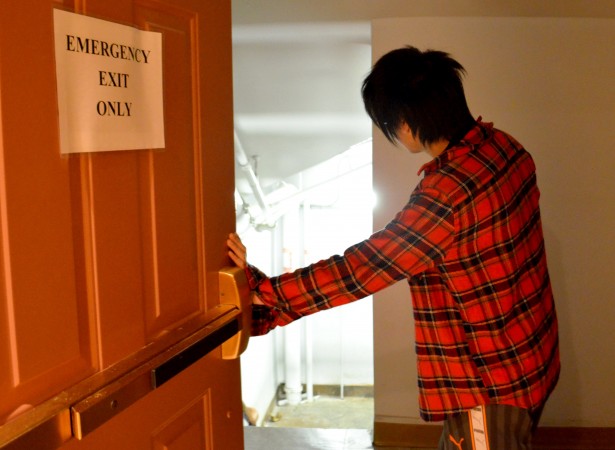 Some University of King's students are raising concerns about safety in their residence after they found a man sleeping in their fire escape hallway.
Residents living in the Angels' Roost first noticed a strange smell and followed their noses to the emergency door.
Upon opening the door they discovered a man curled up on the floor, asleep.
Alarmed, a student called security. They say a security officer and two members of the student-run Patrol went to the Roost and roused the man awake. They told him to leave and they watched him go but they did not follow him out.
Angels' Roost resident Takaichi Kogata says "it's scary because it's next to my room."
"At 3 a.m. I was scared to go to the laundry room because it was possible he was there. We didn't see him leave the building."
Students were told that campus security staff would check the grounds to find out how the man got in.
The emergency staircase used to be for the maids who lived in Angels' Roost. It runs from the top floor to outside Prince Hall in the Arts and Administration Building. It's now used as an auxiliary fire escape.
However, it's possible the man was there for hours. Some students use the fire escape to get to their dorm quickly because they don't need to take out their passkey to get to their floor.
Students in the Roost common room said they heard the fire escape door open around 7 p.m. but dismissed it. Now they are not so sure it was a resident.
"There's no oversight," says Rachel Richard, a resident in the Roost. "No one is posted at the door. We have no idea who comes in or out."
"It's totally unsafe," says fellow resident Xiang Li. "Someone could come and stay in our residence. It's ridiculous. I was scared, to be honest."
Li is concerned that someone could still sneak in.
Quick action to resolve issue
The fire escape's door is not locked and can be opened from either side. Nicholas Hatt, King's dean of students, says he "wants it secured immediately" and asked the facilities staff to fix the locks by the end of the day.
Hatt also sent an email to students living in the Roost, promising a security officer will make more frequent checks to the stairway and that the lock will be fixed. The don will also be regularly checking that the door is secured.
Editor's note: Elizabeth Whitten is a resident of the Angels' Roost.