Mellissa Fung on the future of Afghanistan
LIfe in Afghanistan is improving, CBC journalist told an audience at King's
November 10, 2014, 9:54 PM ADT
Last updated November 11, 2014, 5:34 PM ADT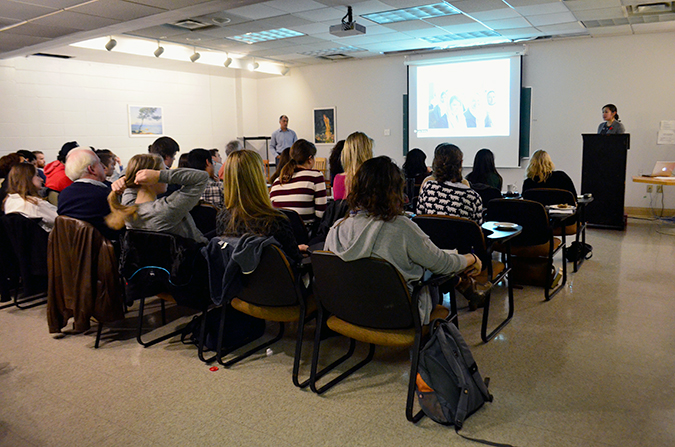 Journalist Mellissa Fung's message to a room of 50 people at the University of King's College was one of hope and the progress Afghans have made since coming out of Taliban rule.
Fung has worked to bring more attention to the issue of women's rights in the area, where she says "violence against women is a big problem." She remains committed to telling the stories of people.
The presentation was sponsored by the Aga Khan Foundation Canada and will take her to seven Canadian campuses. There, she will argue that Afghanistan has made progress since 2011 and for continued aid.
Fung gained international recognition while reporting on a refugee camp for the CBC on Oct. 12, 2008. She was kidnapped and eventually released almost a month later in a prisoner exchange.
She doesn't like to talk about what happened, having published a memoir on the experience.
"I feel like my story has been told… I'm really not talking about my story anymore."
After being held captive in a hole for 28 days, she never thought she would return to Afghanistan, but "never say never." In the past year she's returned twice, and is possibly going to make another visit in the spring. 
Fung says her friend Captain Trevor Greene has an explanation as to why she returned: "When your blood has stained the Afghan sand, you can never walk away."
No quick fixes
When it comes to the future of Afghanistan, it's easy to be cynical. Fung says the people are still hopeful: "If they have hope, who are we to tell them no?"
Once while staying in Afghanistan with a group of male reporters from The New York Times, Fung noticed a trend. Her male colleagues were only talking to men about military actions, elections and poppy production. They were painting a depressing picture for the future of the country.
They "weren't talking to women, to little girls" who have benefited so much from recent changes, she said. 
To Fung, "development is a process, it's generational. You can't be in a country for 10 years and expect everything to be better. It's just not reality." 
She went on to talk about the rising rate of literacy among women, of the falling mortality rates of children and the new hospital facilities that are currently being built.
Afghans have made strides with human rights. Women's shelters are in almost every province, something that would never have been seen 12 years ago. There, women escape abusive families and can attend literacy classes.
It is still an uphill struggle in some cases, Fung said. Girls are still being forced into marriages. Sexual assault is still seen as adultery on the woman's part, which leads to few reported cases.
"Yes, there is a lot of work to done" — so much that Afghanistan won't meet the United Nations Development Programme's Millennium Development Goals, she said. However, that is not a reason to give up on Afghanistan. Military support isn't the only thing that is needed, but aid as well.
"If they have hope, who are we to tell them no?" she asked.
 More than just a military mission
Glenn Davidson, a  former Canadian ambassador to Afghanistan, who was in the audience, said, "We do tend to focus on the military mission… There's been huge progress on the Afghan side, not just the social and education and health care, but also in the ability to manage their own country."
He wants to keep an eye on Afghanistan in the next few years, when there will be a pressing need for jobs, infrastructure and economic development.
 Women are reclaiming the rights they lost under Taliban rule. Fung's primary interest is the welfare of women and she dismisses any posturing that women's status in Afghanistan is cultural.
"In the 1920s, women wore miniskirts in downtown Kabul," she said. "Our memories are so short." 
Marina Fazel, a master's journalist student at King's who was also in the audience, said, "Women have enjoyed better rights…. This is something that has taken a beating in 30 years of war in Afghanistan. Women's rights are just like any other human right. They come once a society is put together from the ashes of war."
 Put into context, the last 12 years have been about regaining what women had lost.
Won't turn back
Fung argued that being a female journalist offered her some experiences that a man couldn't have. She was able to gain access to women and children.
"I got to talk to women. I see it as a privilege. They don't trust many foreigners," she said.
Though she still finds it difficult to get her stories told. It's "easier to tell stories when something bad is going on." 
Fung argued that Afghan women are better off since the 2001 intervention by countries of the North Atlantic Treaty Organization and are happy with the situation. She's optimistic about the future of women in Afghanistan. Slowly, men are are coming to recognize that women need to be educated and able to work. If there was an attempt to roll back women's right, the people would not allow it.
As for the story 2008 Fung had been filing on a refugee camp, it was eventually aired.