Mission to Mars a step closer for Dal student
Dal engineering student Tyler Reyno is one of a thousand people still in the running for a mission to the red planet.
January 20, 2014, 4:00 PM ADT
Last updated January 20, 2014, 4:10 PM ADT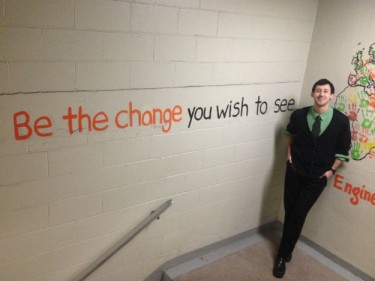 Tyler Reyno is positioned to be Nova Scotia's first astronaut and he hasn't even graduated yet.
Last week, the 21-year-old Dalhousie mechanical engineering student from Lower Sackville received some exciting news. The Dalhousie University student was selected as one of the 1,058 people from around the world who are still in the running to make a one-way trip to inhabit Mars.
"I was extremely excited, it had been a long time coming," he says.
"I was pretty confident. Chris Hadfield was a mechanical engineer."
Mars One is a not-for-profit crowd-sourced initiative with one goal in mind: making a permanent human inhabitance on Mars.
The organization has received over $200, 000 in donations so far, with most of the funds going toward concept design research.
Those selected for the mission will learn to sustain themselves on the planet. They will extract water from soil, oxygen from plants and will cultivate their own food crops.
"You can never know too much," says Reyno.
Before the next round of cuts, each of the contenders must have a medical examination and go through a personality testing process.
After these results are processed, the number will be whittled down to 24. These 24 individuals will train for seven years and embark on their space mission four at a time.
To prepare for the desolate landscape of Mars, each successful applicant will undergo isolation training. The will spend upwards of six months in a desert-type area, probably in the deserts of the United States, to see how well they can cope in a lonely and barren environment that averages -50 C.
Reyno says what gives him his competitive edge is involvement with a little side project. He wants to bring the private space industry to Nova Scotia.
"I really think it's time for Canada to get more excited and start taking more risks in the space industry," he says.
"My efforts are just trying to bring that to the table."
He says NASA launches rockets along the east coast of the United States, and geographically, Nova Scotia is perfect for launching rockets as well.
"I've realized that if Nova Scotia was to be home to a launch service provider for satellites, commercial or governmental companies, it could provide a significant economic opportunity attracting a lot of talented brilliant people to come here."
A Chicago company proposed building a launch site in Cape Breton in 2007, but did not proceed with the plan.
Reyno, who is set to graduate in 2015, says it can be tricky finding a balance between his course work and his extra-curricular activities.
"My studies are definitely important to me but upon realizing what I believe is a large opportunity for Canada, the majority of my energy is geared toward bringing space to Nova Scotia."
Reyno says he's always been curious and intrigued about space.
But it was just over a year ago when he was sitting by himself and thinking about his future that he realized he wants to make a career out of this interest.
"Even from a young age, I understood that a lot of people were going to be able to go to space. It won't just be for the government, or rich people or celebrities. In a way I always knew I'd make my way there, and I want to take others with me."