Mother-daughter duo plans residency for art grads
Studio residency aims to ease transition from recent grad to professional artist
November 30, 2013, 7:38 PM ADT
Last updated December 2, 2013, 2:19 PM ADT
Recently graduated artists will soon have the opportunity to apply for a free eight-month studio residency in Hantsport, N.S.
Colleen Wolstenholme has partnered with her mother, Sue Wolstenholme, on a crowdfunding campaign to finance a residency in her currently unoccupied art studio.
Wolstenholme hopes the residency will help young emerging artists create futures for themselves through their work and encourage grads to establish studios in Nova Scotia.
The province is home to the Nova Scotia College of Art and Design University, but the attrition rate for art graduates is high, she says.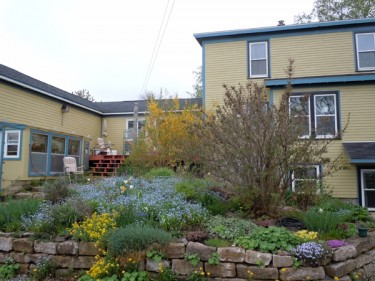 Easing the transition
Wolstenholme says it's a major problem that "only those who are wealthy enough to not have to work when they graduate from art school are able to establish art practices."
As a NSCAD graduate herself, Wolstenholme knows that one of the toughest things for art students after graduation is affording the studio space and equipment needed to continue their work.
Many art school grads are forced to obtain full-time employment because of this, which lessens the likelihood that they'll continue working towards becoming professional artists.
Establishing a career is particularly difficult for people who work in 3D, Wolstenholme says, which is why she's ensuring her studio has the equipment sculptors need.
She hopes that providing recent grads with the required resources and a prearranged exhibition will ease the transition from recent graduate to professional artist.
Crowdfunding campaign
The studio can support two residencies at once with a $15,000 budget for each artist.
The crowdfunding campaign, run through Indiegogo, began on Oct. 26 and has raised $2,200 to date. It ends on Dec. 25, by which time they hope to have reached their $10,000 goal. This money will cover expenses like rent and other accommodation costs, not including meals.
The other $5,000 will be a grant from corporate donors for residency supplies. "All of the businesses we have been in touch with think this is a great idea," Wolstenholme says.
The residency will happen whether or not the crowdfunding goal is met, Wolstenholme says. The plan is to continue fundraising in other ways until they raise the amount needed.
Wolstenholme plans to put out a call for applicants immediately after the campaign ends.
The residents will be selected from a pool of applicant submissions by a committee composed of professional artists and art professors. The committee has not yet been established.
At the end of the residency, the produced work will be shown in an exhibition where it can be professionally documented, which will be helpful when applying for grants and future exhibitions.
Wolstenholme plans to generate enough income to cover her costs through smaller projects in the future.
NSCAD residencies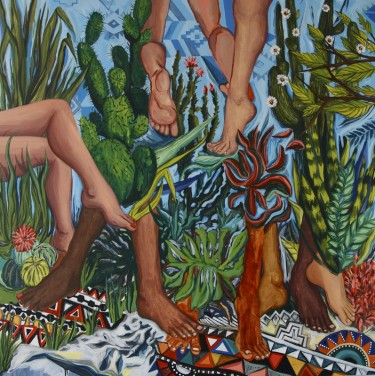 NSCAD also offers residencies to its recent grads.
Wolstenstone is aware that these residencies are available and feels "the more opportunities, the better."
NSCAD offers four residency programs, each located in a different community: Lunenburg, New Glasgow, Sydney, and, most recently, Dartmouth.
Marilyn Smulders, director of communications at NSCAD, says when students are at NSCAD, "they're really taken care of.… Everything's at their fingertips. When they graduate, they leave that behind. That's why these studios are so crucial for people who want to get their careers going."
She says you can see the benefits of these residencies in Lunenburg especially, since "so many" of the grads who went to that residency program, now in its eighth year, still live there.
Wolstenholme's studio will be open to all art grads, not just those who attended NSCAD.
Her studio also offers equipment that not all residencies offer. Some only offer space, which is fine for painters, but won't work for sculptors, she says.
Lunenburg residency experience
Craig Budovitch, a painter and muralist, was one of three artists in the NSCAD one-year Lunenburg residency that ended on Aug. 31.
"Ultimately, applying offered a chance to transition from student to professional artist in a supportive community," Budovitch says.
He was then able to sell his paintings from the studio, "which is what must happen for a young artist to continue creating and supporting themselves," he says.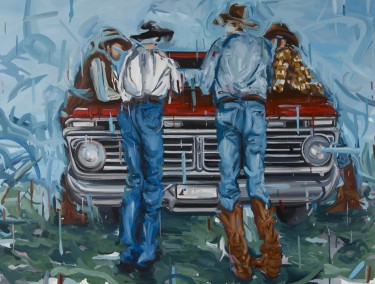 Budovitch is currently travelling, but plans to return to either New Brunswick or his native province of Nova Scotia to settle down and eventually open an artist-run centre.
The two other artists he was living with remain in Lunenburg.
While Budovitch left NSCAD with technical knowledge, he feels he left the Lunenburg residency with knowledge of the business and social-related aspects of being an artist.
Long-term plans
Future plans for the Hantsport property include developing a sculpture garden with curated installation of large-scale outdoor sculptures.
Wolstenholme hopes these and other initiatives will help facilitate the long-term development of an arts hub for the region and create a destination for those looking for art and cultural experiences, especially Nova Scotia's tourists.