MSVU begins writing festival
McKay kicks off the week long Celebrating Writing events
November 13, 2012, 2:50 PM ADT
Last updated November 14, 2012, 4:59 PM ADT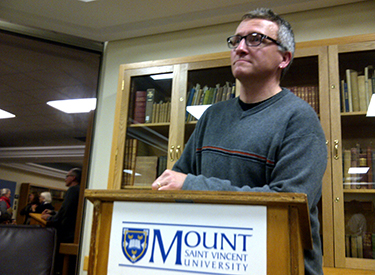 Enthusiasts of the written word gathered Monday at Mount Saint Vincent University for the opening day events of the fourth annual Celebrating Writing week.
Leo McKay Jr., billed as the opening day's headliner, read half an hour's worth of excerpts from his 2003 best-seller, Twenty-Six, paying particular attention to family relationships across generations. The novel chronicles the lives of two brothers living in Pictou County, N.S., around the time of the Westray Mine disaster.
McKay, in worn black jeans, thick-rimmed glasses and runners, began reading just after suppertime to an intimate group of primarily faculty and library employees in the library's MacDonald Room. He fielded questions for another 15 minutes and stuck around afterwards to sign books and meet one-on-one with whomever was left.
Unfortunately, few students showed up at all.
"I think it's a good book for young people because it deals with choice," says McKay of Twenty-Six – the first book selected for Libraries Nova Scotia's discussion initiative, One Book Nova Scotia. "People were facing the same economic uncertainty graduating from university 25 years ago as they are now."
McKay says he thinks the Westray Mine Disaster is historically important, so everyone should know a little about it.
Edythe Davidson, a library assistant at Mount, knows as much. She's followed McKay ever since the launch of Twenty-Six and avidly pursued a reading. She describes the book as "hard to close at times," and after searching for another descriptor for as long as it takes to steep a cup of tea, landed on "passionate."
History
Celebrating Writing was partly inspired by National Day on Writing in the United States in 2009, according to one of the committee members who organizes the event. Tanya Crawford says her committee encourages faculty members and students alike to improve their writing skills beyond just academic writing or "essay writing".
"We're most excited about the events highlighted in yellow on the program," she says. "Those are new this year. With events like the traveling writing session, we're encouraging students and faculty to blog about their travels and sabbaticals."
Other events
Earlier in the day, Nancy Chesworth, of the Mount's tourism and hospitality department, gave a talk on beginning a career in travel writing.
She says "the best reason to write about travel is for personal reference: to record what you did and saw and how you feel about it." She says it's helpful to write as you go and to pretend you're writing to a friend. She cites Journeywoman as a helpful resource for women writers.
After travel writing, and before McKay, ran another event called Responding to the Theatre of War – during which fourth-year English students presented creative responses to depictions of war on stage and in books.
MSVU professor Reina Green says the idea behind this third event was to have students interact with Canadian texts and help improve their speaking skills in a public forum.
"Many of these students are education students. They need public speaking to give parent teacher interviews and head classes," adds Green.
Both of the events were held in smaller classrooms on the third and fourth floor of the campus's Seton building.
Again, only a handful of students attended.
Turnout and upcoming events
Crawford says the low numbers are a result of students studying for exams, while Green says it's partly because MSVU is largely a commuter school.
Celebrating Writing picks up again Wednesday with a talk on Twitter by English professor David Wilson at 11 a.m.
Consult the Celebrating Writing program to see which events are open to the public.