MSVU students strike a pose for love equality
Love Is Love campaign spreads messages of love across campus.
February 10, 2014, 12:33 AM ADT
Last updated February 11, 2014, 7:46 AM ADT
Students at Mount Saint Vincent University are posing for the camera to show their support for love equality.
Student union president Zach Gallant started the "Love Is Love" campaign last year. Students pose for a photo and provide a quote about what love means to them. The photos are made into posters and are posted around the campus and on social media for the lead-up to Valentine's Day.
MSVU students Lori O'Brien and Jennifer Brown posed for a photo after hearing buzz about the campaign all week.
"It blew up on my Facebook feed and I saw the posters of a lot of students that go to MSVU… So I thought 'you know what? I love love too!'" Brown says.
O'Brien says they were excited to be able to make a poster of their own.
"We thought it would be awesome if we could do it together. And we thought of a quote which is 'love is a big Newfie hug when you need it the most,' because we're both Newfoundlanders," she says.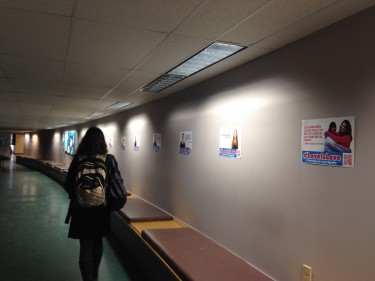 "Love should be accepted no matter what it is."
The campaign uses Facebook, Twitter and Instagram to display the posters to a wider audience. Students who do not go to MSVU can also take their own photo, insert a message and post it on their social media pages.
"We're trying to send the message that love is something that should be shared by everybody. Everybody has the right to love and nobody has the right to say who you can or cannot love," Gallant says.
Gallant says the union wants to focus simply on love and does not aim to take any political stance with their campaign.
"We're so concentrated on the politics of things, sometimes that we miss out on the small little bits and pieces," says Kenney Fitzpatrick, general manager of MSVU's student union. "People ask, 'Is this a gay rights campaign? Is this for gender equality?' But there's really no angle."
Fitzpatrick says he's seen all types of students, as well as staff members and faculty, participate in the campaign. Some choose to make their message a passage from the bible, while others choose to centre their passage around their beliefs on same-sex marriage.
"How they experience love? That's their business. And who they want to experience it with? That's their business," Fitzpatrick says.
In their second year of the Love Is Love campaign, Gallant says their theme is "1,000 strong." So far this year, MSVU has 300 posters. He thinks with the help of six other universities that have signed on to help further the campaign, including Saint Mary's and Saint Francis Xavier, that goal will be met.
MSVU student Melissa McGee is taking part in the campaign this year, and says her poster is capturing the attention of her friends from other schools.
McGee's message of love is simple.
"You're falling in love with the person, not the gender. It's OK to love the same gender, and love should be accepted no matter what it is."