Muslims raise money for poppy campaign
Muslims for Remembrance Day Campaign kicks off in cities across Canada
November 9, 2014, 7:28 PM ADT
Last updated November 11, 2014, 1:53 PM ADT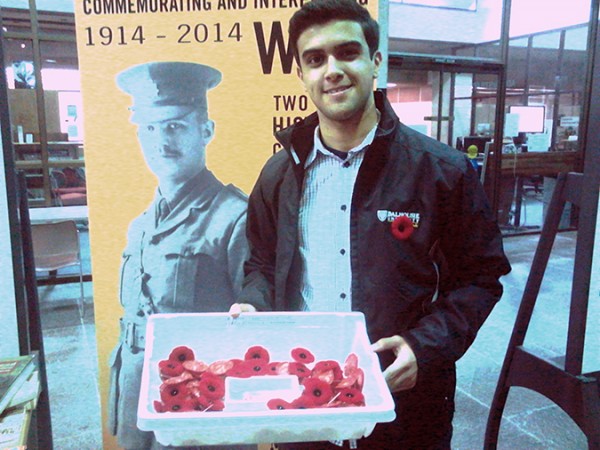 Members of the Ahmadiyya Muslim community in Nova Scotia are showing their support for the Royal Canadian Legion's  Poppy Campaign.
The community recently launched its Muslims for Remembrance Day campaign in cities across Canada.
Ahmadiyya community centres and mosques will be collecting donations on behalf of the legion. They also handed out poppies after prayers on Friday.
Well Received
President of the Halifax area Abduhl Qureshi says the campaign has been well received and that the towns they have visited over the last few weeks welcome the effort the mosque is making in connecting with community.
"We have been met with a lot of appreciation and understanding," Qureshi says.
He says the Muslim community doesn't feel pressured to show solidarity with the rest of the Canadian population, but does so because it wants to spread the word among Canadians about the values of the Muslim community.
"One of the tenants of our faith that the prophet Muhammad, peace be upon him, taught us was love your homeland as part of your faith," Ahmad says.
"Considering the rights we are given, there is no reason why any Muslim shouldn't consider this their homeland," Ahmad adds.
Ahmad says events such as the murders in Ottawa and Saint-Jean-sur-Richelieu, Que., of Cpl. Nathan Cirillo and Warrant Officer Patrice Vincent sicken the Muslim community and cause it to worry.
"Every time [my parents] hear of something happening, first of all they're worried and sad that these people have died, but their second thought is 'I really hope that this person isn't Muslim' because it perpetuates that whole stereotype."
"We are Canadians before anything else," Ahmad says.