N.S. to foster new business ideas
N.S. government seeking proposals from universities, NSCC for free thinking 'sandbox' environments
February 16, 2014, 7:04 PM ADT
Last updated February 16, 2014, 8:12 PM ADT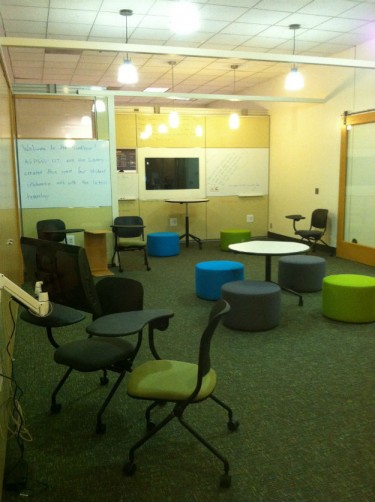 Nova Scotia's students will have the opportunity to bring their light-bulb moments to life.
Last week, the Nova Scotia government announced it will be asking for proposals from universities and Nova Scotia Community College campuses to build innovation sandboxes.
Sandboxes are free-thinking environments where students, innovators and people in the business industry are encouraged to share ideas that could become businesses.
Ava Czapalay is the Senior Executive Director of Higher Education with the Department of Labour and Advanced Education.
"Nova Scotians come up with smart ideas every day," she says.
She says that though innovators with the mentors, research and investment they need to turn their ideas into new businesses, or grow their existing businesses.
Czapalay says sandboxes give students a space to experiment with new ideas, learn from their peers, and connect with industry to develop ideas and take them to the next level.
The province plans to provide each sandbox with $150,000 per year for up to three years. After that time, the institution is expected to have found ways to sustain the sandbox on their own.
In addition to the start-up funds, about $75,000 is reserved for the competitions that will recognize the most promising sandbox ideas.
"This is a small investment that will generate big results," says Czapalay.
Sandboxes intentionally have a loose structure to encourage the free flow of ideas and information. The people involved welcome anyone, because no one knows who will bring a skill or idea that sparks innovation. They also provide safe places to try, which Czapalay says is important to foster a culture of innovation and entrepreneurship.
While they're more than just physical spaces, they may include equipment such as 3D printers and big presentation screens or lab spaces. They should aim to create and manage spaces where ideas can be developed and entrepreneurship will be supported at very early stages.
Sandboxes are based on an approach used at the Massachusetts Institute of Technology and the University of Waterloo.
The membership of the panel that will choose the successful sandbox applicants is still being finalized. It will likely include representatives from the province, Innovacorp and others from innovative learning and development groups. The sites and project manager will be announced in March.