Nova Scotia's Mental Health Court marks five years
Report on court's activities over its first five years shows most common diagnoses are schizophrenia and bipolar disorder
November 5, 2014, 11:23 AM ADT
Last updated November 7, 2014, 10:37 AM ADT
Statistics show the Nova Scotia's Mental Health Court program is working for those admitted - but there are no plans for expansion outside Halifax.
More than three-quarters of the people who went through Nova Scotia's Mental Health Court system successfully completed their program. Two hundred and thirty-two people entered the program since 2010.
The figures were released as part of a report of the court's work on the occasion of its fifth year.
"[The Mental Health Court] is a prime example of how collaboration, co-operation and creativity have led to and produced great results for persons with mental health difficulties who find themselves in conflict with the criminal justice system," said Pam Williams, Chief Judge of the Provincial and Family Courts of Nova Scotia at a news conference Wednesday.
Some of the highlights include:
687 individuals were referred to the court
232 people (32%) were deemed eligible to participate in the program
199 participants (86%) successfully completed the program and graduated
The majority of the people referred were men (67%)
The age range for all people referred was 18 to 86 years of age
38 per cent of those referred were 18 to 30 years of age
Among male participants, the most common diagnosis was schizophrenia
Among female participants, the most common diagnosis was bipolar disorder or major depression
Not everybody meets the criteria for receiving treatment, which is why only one third of referred individuals were admitted. To be a participant in the Mental Health Court program, a person must be charged with a criminal offence and must either reside in the Halifax Regional Municipality or be connected with mental health service providers in the area.
"Mental illness is something that touches so many of us, from all walks of life," said Leo Glavine, Minister of Health and Wellness. "It is crucial that people living with mental illness have the specialized care and help to help them integrate back into their communities."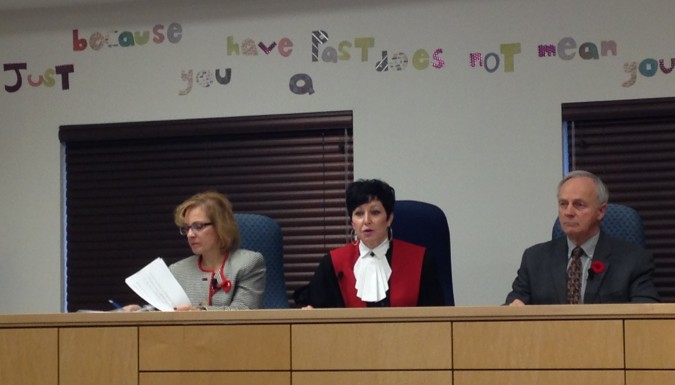 The court has partnered with Dr. Mary Ann Campbell of the University of New Brunswick to conduct a formal evaluation of the program. The formal evaluation will detail individuals' history 12 months before, during and after their time in Court including hospital and emergency visits, and police reports. The formal evaluation is expected late 2014 or early next year.
Minister of Justice Lena Metlege Diab says the program is a success, but there are currently no plans to expand outside of the HRM.
The court costs about $480,000 a year to run.