New mayor wants to keep students in Halifax
Transportation a hot topic at the Halifax Municipal swearing-in ceremony
November 7, 2012, 1:43 PM AST
Last updated November 22, 2012, 7:00 AM AST
As the first of the U.S. election polls closed, Halifax's recent election results were made official. The new mayor and city councillors were sworn in at a ceremony at Citadel High School.
Justice M. Heather Robertson did the swearing-in of Mike Savage and the councillors, including newbies Waye Mason of District 7, Matt Whitman of District 13 and Stephen Craig of District 15.
Mayor Savage made a speech about his broad vision for the city, choking up when he thanked his wife Darlene and children Emma and Conor.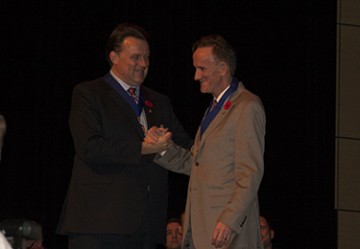 He gave a nod to the city's post-secondary institutions when he said, "We have an educated workforce with six universities and a community college that will fuel our productivity."
"We want to bring students here, but it's really important that we keep them here, " he said at the reception after the ceremony. "I'd like to see HRM hire more young students without asking for three to five years experience."
Jennifer Watts, representative from District 8, echoed Savage's words. She wants to encourage students from the area and also students "from away" to stay.
Transportation is another issue on Watts's radar.
"If you don't have to have a car, but can rely on good, efficient transit or getting around on your feet or on a bicycle, that helps to make it more affordable to live on the peninsula," she said.
For students living outside the city centre, accessible transportation is just as, if not more crucial. Matt Whitman, councillor for Hammonds Plains-St. Margarets, said students and their families have to bypass an insufficient bus system.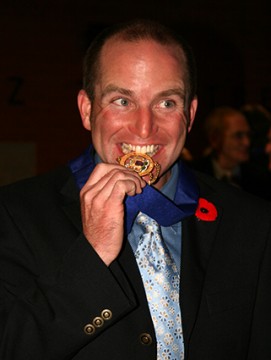 "Parents either get an apartment for their kids downtown, or they have to get another vehicle, so the bus doesn't work for kids out our way," he said.
Whitman mentioned a barista at his local café, Edible Matters, who commutes to Hammonds Plains from the north end of the peninsula. Sanford Jones has to wait a total of two hours everyday for the bus to and from work.
Jones said he has spoken to Whitman about the issue and the councilor suggested a shuttle bus from Hammonds Plains to Bedford.
"It would make it a lot easier for a lot of commuters in Hammonds Plains," said Jones.
South end councillor Waye Mason made students a focus of his campaign from the get-go. He was the only candidate to run campaign ads in university publications such as the Dalhousie Gazette.
"Students got me elected," he said.
The municipal election was on Oct. 20. Most candidates were re-elected, excluding Dawn Marie Sloane, who ran against fellow incumbent Jennifer Watts for the north end spot. Longtime councillor Sue Uteck lost to Waye Mason in District 7.