No more sick notes for SMU students
The SMU Health Centre stopped writing sick notes
November 18, 2013, 4:02 PM ADT
Last updated November 20, 2013, 10:57 PM ADT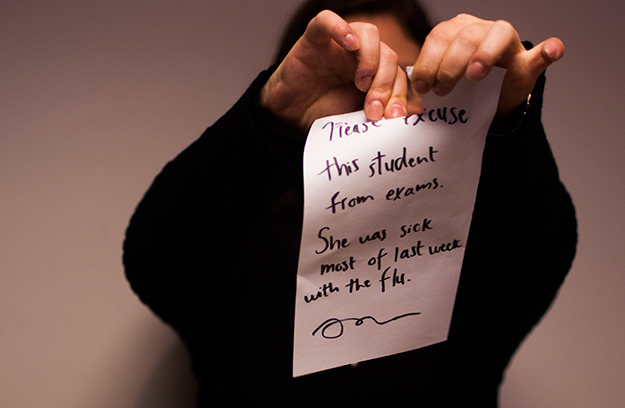 Sniffling Saint Mary's University students must look elsewhere for sick notes. The Health Centre will no longer write retroactive slips to excuse students from tests even though profs may still require them.
"This past couple of months I've never seen so much lying and obvious deception," says Jane Collins, Nurse Manager at SMU.
In the past, if you got sick and needed to prove it, she was the one to talk to.
Not anymore.
The notes, Collins puts it, are "worthless," and do nothing but prove a student took time to visit the office and clog up the school's health services.
Collins stopped writing notes a few weeks ago after talking to Paul Dixon, Saint Mary's registrar.
She says students can still go to a doctor for diagnosis while they are sick and request a note, but can no longer come to her after the fact looking to get out of class work.
Amanda Ecker, one of over 7,400 students at SMU had no idea the Health Centre stopped writing doctor's notes. She' s never used the service before, but knows her friends have depended on sick notes for classes.
"I can see both sides," she says. Ecker knows sometimes students use the notes as an excuse when they haven't studied for a test, but also thinks she should have been informed about the change.
She says when she found out she went online immediately, but couldn't find any information on the SMU health services web page.
The SMU academic calendar for 2013-2014 states students missing a final exam may appeal for a make-up test through their dean with doctor's documentation. Apart from that, the university has no official regulations for missing tests—usually professors set their own rules.
"I've only just received a notice regarding this," says Hugh Millward, a geography professor at SMU. He was sent an email from the dean of science that asked professors to consider striking the doctor's note requirement from their syllabi.
Millward says his syllabus encourages students to talk to him instead of student health if they want to miss a test.
"I will deter frivolous cases or situations where the student is plain just not telling the truth" by telling them the final exam is simply weighted further with marks for the missed work, he says.
Paul Dixon, Saint Mary's registrar is in charge of getting the word out to department heads. Dixon says the school has been trying to stop professors and students' use of sick notes for since the H1N1 pandemic in 2009. He has sent out a few emails already, the most recent after Collins told him she was done writing notes.
"I know there were instances of students getting quite upset at health services," he says. "There was at least one professor who complained."
Dixon, who is a professor himself, says some students get legitimately sick come test time and professors need to have contingency plans to deal with unforeseeable circumstances.
Back at health services, Collins is glad to get back to her regular nursing duties. Although she won't be setting time aside to write notes she still is available 24/7 for student calls—though she adds, if it's 3 a.m and not an emergency, she prefers texts.
"I've been writing them in good faith," she says. " I don't really feel like I should be an accomplice to a student who is not being truthful."