NSCAD grad back from the Golden Globes
Jewelry designer Theresa Lee Capell displayed her work for Hollywood celebs
January 20, 2014, 9:03 PM ADT
Last updated January 20, 2014, 9:06 PM ADT
When NSCAD graduate Theresa Lee Capell was first contacted by a company to provide gifts for celebrities at the Golden Globes, she couldn't believe it.
She contacted her brother who helped her do some research to ensure it wasn't a scam, and once she realized it was legitimate, she was over the moon.
"It sounded too good to be true. In the end it was real and I knew I had to call them back right away, because I was totally into it."
Dubois Pelin and Associates were looking for Theresa, who goes by the alias Miss Foxine, to participate in a pre-awards promotional gifting event during the few days leading up to the Golden Globes. She would give away pieces to celebrities, TV producers and network execs in return for exposure.
Originally from the Annapolis Valley, Theresa's journey from NSCAD to the Golden Globes happened fast, with a lot of perseverance.
"I've been making jewelry and working at the Halifax Seaport Market, knowing that it's very important to get your portfolio out there. So I did that as soon as I graduated. I sent my portfolio to many different outlets and different events, and that's how I was picked up by the DPA."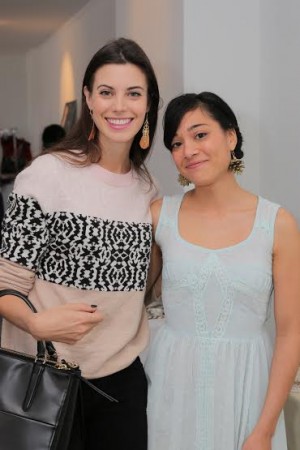 Her pieces are whimsical, inspired by nature and the Victorian era. She is drawn to adventure and flamboyance. Her pieces range from small and ornate, to materials found in the forest.
"I like finding natural beauty around me. That has always been a big influence on my work," she says. "I have always loved creating things out of materials such as feathers, bark, leaves, flowers and anything lovely."
She gave more than 70 pieces to celebrities backstage, including Sharon Stone, Angela Bassett and Dennis Quaid, who took some pieces for his wife. The extravagant nature of Hollywood felt like a perfect fit for Capell, who enjoys exploring costume design.
"I've always wanted to see my pieces on TV, and I've always loved watching fairy tale movies where you see all these beautiful jewelry pieces and costumes. I knew my pieces would fit into that kind of style. But I didn't think an opportunity like this would come up."
Next for her business is establishing herself within boutiques in Halifax and Los Angeles. But she'll always remember the excitement of the Golden Globes.
"It was an amazing experience, meeting these people who I watch on a regular basis. "