NSCAD student nominated for Canadian Screen Award
Mary & Myself tells the story of two women rehearsing for the Vagina Monologues and exposes a dark element of Japanese history
January 30, 2014, 5:31 PM ADT
Last updated January 30, 2014, 5:31 PM ADT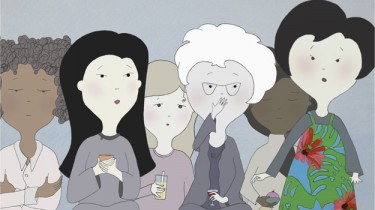 A tragic story from Japanese history and a performance of a popular series of monologues frame an animated documentary that has recently been nominated for a Canadian Screen Award.
Mary & Myself tells the story of two older Asian women from Halifax as they prepare to perform an excerpt of Eve Ensler's Vagina Monologues.  The charming story of the women's debut is juxtaposed with the heart-wrenching history of so-called Japanese comfort women from the Second World War.
NSCAD master of fine arts student Sam Decoste wrote, directed and animated the documentary, which was produced by the National Film Board of Canada.
"I'm absolutely thrilled.  I'm so surprised," says Decoste about her nomination in the best short documentary category.  "I think it is going to give much more exposure to the film."
Decoste had the inspiration for Mary & Myself after spending years in Taiwan. The New Glasgow native would frequent the Mu Lan Tea House on Lower Water Street which was run by Jia Tsu Thompson.
"I guess I was going through a bit of culture-shock after living there for seven years," Decoste says.  "It was a place I could go to and speak Chinese and she is a very interesting woman."
One day Thompson told Decoste the story of how she and her friend Mary Mohammed were once asked to perform a monologue about comfort women. Mohammed is the founder of Mary's Bread Basket, which is located in the Seaport and Historic farmers' markets. Decoste knew the story would be a great subject for her first NFB film.
During the Second World War, thousands of women from areas occupied by the Japanese were kidnapped or duped into forced prostitution.  These women were forced into sexual acts with dozens of Japanese soldiers each day.  Many of the women died, were tortured and were left infertile from sexually transmitted diseases and trauma.
There is no accurate number of women, now called grandmothers, affected during the war, but estimates range from 20,000 to 500,000 women.  Every Wednesday since 1992 survivors, now in their 80s and 90s, protest outside the Japanese embassy in Seoul, South Korea seeking an apology for what was done for them.
Recalling the monologue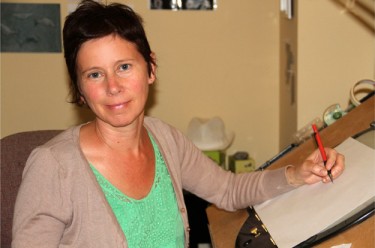 The experience of performing the monologue left the two women with two very different emotional reactions.  Thompson became angry when thinking of her lines.
"I would remember the lines such as they do it when we were bleeding. They do it when we are so young before we were bleeding.  Fifty soldiers a day. Sometimes a shipload of them.  Japanese government, say 'Sorry'," she says with passion in the documentary.
Mohammed would cry during rehearsals.  She vividly remembers the emotions felt when rehearsing.
"Every time we were memorizing, we were reliving what the women had to go through.  So that's why our part was so depressing, but we were determined to go through it," she recalled today.
"When you go through something as dramatic as that, you live through it every day," Mohammed says in an interview, welling up in tears.  "That's why the more exposure, it will help them."
Mohammed is proud to be a part of such a touching documentary and proud of Decoste as well.
"Besides the beautiful work she did, it's the effort she put into it.  I am just so thrilled for her," she says, adding, "She made us so cute.  She had a beautiful way of doing it."
The Canadian Screen Awards will take place on March 9 and will be aired on CBC.