NSCAD student uses dark imagery to inspire
Kathleen Day's exhibit about mental, physical illness
January 15, 2013, 5:45 PM AST
Last updated January 17, 2013, 4:23 PM AST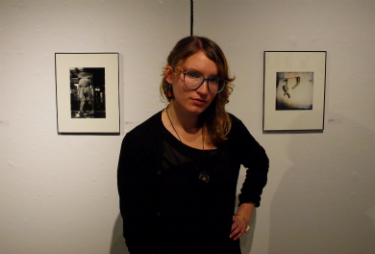 Deformed babies in bottles. Dangling doll limbs. Bleached skeletons posing.
Kathleen Day's photography hangs eerily from the walls of the Anna Leonowens Gallery.
The collection, titled Vita Lineas, or Life Lines, is on display from Jan. 15 to Jan. 19 in Gallery 2A.
Day, a photography student at the Nova Scotia College of Art and Design, says the photos were taken over a two-year period while travelling in Europe. She visited 11 cities in France, Portugal and Spain.
"When I started creating this body of work I just focused on people and portraits because that's where my interest has always been," says Day.
"And then I started travelling more and seeing places where people died or medical museums of people with physical disabilities."
Her cameras captured it all.
Day moved to Halifax from Edmonton, Alta., in 2008. In 2010, she decided to travel to Europe where she studied in both Paris and Lisbon. She even spent some time away from civilization while living in the mountains of Spain.
Day brought her photos back to Halifax last year where she began her biggest challenge: presenting them as a cohesive piece of art. First, she needed to find a common theme.
"The idea just sort of came to me that it was about mental and physical illness," says Day.
Next, Day had to find the best way to arrange her photos.
"The biggest concern I had was bringing together the Polaroids with the silver-gelatin prints," Day says. "Silver-gelatin prints are prints made in a darkroom on fibre paper. It's not digital photography. It's analog. So to bring together the black and white photos with the Polaroid photos was important."
Vita Lineas opening reception

At the exhibit's opening reception on Monday night, Day stands proudly next to her exhibit. Several people congratulate her and give her hugs. She mingles with people in the audience. They ask questions about her work.
Matt Brown studies painting and drawing at NSCAD. He wanders through Day's exhibit pausing for a few minutes at each photo. "I'm really drawn to the scanned Polaroids, particularly," Brown says.
"Maybe it's that mystique; that mystery that I'm really drawn to," says Brown. There's something more to each one that's not being said and that gives room for the viewer to kind of contemplate."
Art-lover Caitlyn Seco is also meandering through Day's exhibit.
"I guess my reactions to all of them are different," says Seco. "Some I don't find I connect with as much as others. My favourite one I think is actually this one for whatever reason."
She points to a photo of blurry hands.
"I find hands tell more of a story than a face a lot of the time. You can't really see the hands, but I kind of like that too," says Seco.
Day says she wants her audience to look at their own lives, and appreciate and be grateful for their health.
"I think a lot of the times people can get caught up in their problems," says Day. "I know it's not true for everyone. Nobody's life is perfect. Gratitude is what I want people to think."
Days in the future
Day graduates this spring and she says she hopes to continue creating art.
"I feel a lot of pressure to go out and get a good job and because I'll have a degree I hope to do something good. Something that I couldn't  do before. But I also want to continue to travel and take pictures."
Day will be speaking about her exhibit on Jan. 16 at 12:00 p.m. at the Anna Leonowens Gallery.