NSCC and King's mount joint election coverage
Online municipal coverage first collaboration between schools.
October 30, 2012, 10:33 PM ADT
Last updated November 27, 2012, 10:39 PM ADT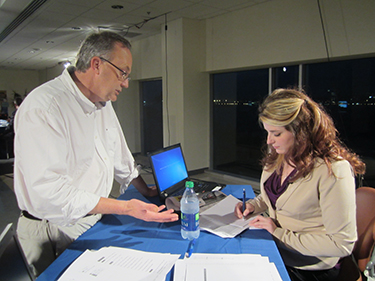 "Just don't panic."
That was the advice journalism instructor and CBC reporter Stephen Puddicombe offered anchor Gena Holley ten minutes before the cameras rolled for the joint University of King's College/Nova Scotia Community College student coverage of the Oct. 21 municipal election in HRM.
About 60 of the college's radio and television arts students worked alongside 26 members of the King's journalism program. It was the first co-production between the schools.
The idea was hatched at a conference for journalism educators from the Atlantic provinces earlier this year, explained Erin Moore, the college's journalism instructor who helped orchestrate the project.
Moore and Kelly Toughill, director of the King's program, met and decided to undertake a project together. Moore mentioned it to colleague Stephan Melanson and he suggested this fall's election would be a natural fit.
King's students put together an interactive website, HRM Votes, that offered district and candidate profiles, print and video features and a Twitter feed. The live broadcast was hosted on the site.
The college provided the facilities and technical operations. Students from both schools did the reporting on election night.
Tables in the cafeteria were pushed to the side to make room for cameras, monitors, and sound equipment. The anchors sat in the corner with the Halifax night skyline as their backdrop.
"It's a big role, there's a nervousness that goes with it," Holley, who's in her second year of the radio and television arts program, said before going on camera. She and Alison Chiang, a King's journalism student, were the faces of the online broadcast.
"I like when people are stressed out," Carl Clark, who's used to working under pressure, said as he prepared to run the teleprompter for the anchors. "I always worked in kitchens, I'm used to it, there's a lot of people yelling … no one here is gonna burn anybody. There's no knives."
Sign language interpreters brought in from the community worked steadily next to the TV control room in the basement. Student producers ran from site to site making sure everyone was working together.
Excitement spilled out of the newsroom when students broke a story about a flaw in the online voting process. Kate McKenna, HRM Votes editor and a King's student, explained that they got the story from a reporter's mother whose vote wasn't counted when she neglected to click "confirm" on the website form The chief electoral officer confirmed that some votes may have been missed.
As with any live production, things did not go off without a hitch. A story that reported a more than 50 per cent voter turnout was published. It turned out to be incorrect and was taken down. McKenna said they offered a retraction under the most recent story. The official turnout was about 37 per cent.
"Overall it went really well," said Moore. "I'm really excited about working closely with King's again."
In the end, Puddicombe's last-minute advice to the anchors may not have been necessary.
"I didn't sweat as much as I thought I would," said Chiang.