NSCC food bank helps can hunger
November 1, 2013, 2:51 PM AST
Last updated November 6, 2013, 2:55 PM AST
In the tidy, well-lit space, there's the obligatory row of Kraft Dinner. Shelves hold an array of Jell-O, canned spaghetti and Gatorade.
The small room tucked away on the top floor of Nova Scotia Community College's Waterfront Campus houses the student food bank – a potential lifeline for students struggling to put themselves through school.
For many students, balancing the cost of groceries, school supplies, household necessities and sometimes even child care becomes a drain on student loans and part-time paycheques.   While loans are limited by student and parent income, the food bank program is available to any student on campus.
There has been a food bank on the Waterfront Campus since it opened in 2007, says Lori Foran, the college's student life coordinator. It was developed through the combined efforts of administration and student associations.
Bridget Campbell, vice president of services at Waterfront Campus and the person responsible for the food bank, says donations are generous. At a barbeque in early October, for instance, students received a burger and a drink in exchange for a donation. About 100 pounds of food was collected.
Ryan Pilmer, vice president of activities, has also worked with the program. He says the campus' business school holds food drives and the cafeteria donates loaves of bread each week.
Though edible  items are most common, Campbell says the food bank also receives non-food donations cash-strapped students might need.
Kitchen and household necessities such as tinfoil, plastic wrap and Ziploc bags are neatly stacked alongside pet food, diapers and baby formula.  Next to binders and looseleaf, four shelves are stuffed with donated textbooks.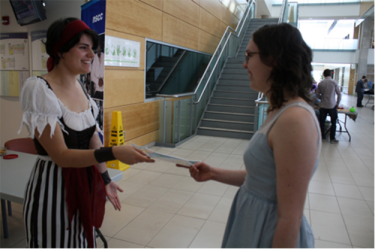 Campbell says students are welcome to visit the food bank twice a month.  They can take one or two bags of supplies each time, depending on the size of their household.  Since the beginning of the school year, about 20 students at Waterfront Campus have used the service.
The program coordinators have devised creative ways to encourage donations.  For instance, Campbell says, during "PB and J Month" any student who donates a jar of peanut butter or jam is entered to win a prize, such as one month of free campus parking.
On Halloween, costumed students went door to door seeking donations for the Trick or Eat campaign.
Foran says the student association also contributes more than $3,000 each year in the form of food, gift cards for perishable items and hampers during the holiday season.
Campbell intends to expand the program. She encourages donations of personal hygiene items such as deodorant and shampoo. She also plans to host clothing swaps.
The food bank's secluded location, away from the stream of class-bound students, helps prevent any stigma for users. But Campbell does not think students feel shame using the food bank.
"If anything, I have heard that some people are not sure if the food bank is for them; they may not feel they have enough need. But we want to encourage anyone who feels any need to please use the student food bank."