NSCC graduate sets sights on Brazil competition
Ryan Leedham is hoping to represent Canada at an international competition this summer
January 22, 2015, 3:34 PM AST
Last updated January 23, 2015, 2:02 PM AST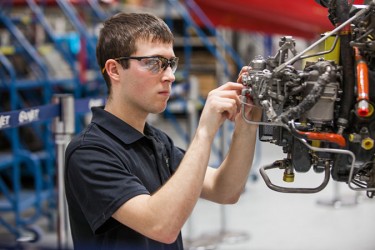 Brazil is beckoning. But forget the caipirinhas and the pristine beaches. For Ryan Leedham, the flight down would be a highlight.
Leedham, a recent grad from Nova Scotia Community College's aviation maintenance program, could be heading to São Paolo this summer to represent Canada in the World Skills competition.
Having already won his event on the provincial and national stages over the past eight months, Leedham competed this past weekend in the Canadian trials, to ensure his skills in aviation mechanics were up to Canadian standards in order to qualify for worlds.
Originally from Brookfield, N.S., Leedham, who is just 20, says he's been interested in aviation since childhood.
"I've always been mechanically inclined and liked planes so it was a natural decision," Leedham said.
The 70-year-old program is open to any recent grads or students undertaking an apprenticeship in a variety of fields, including hairstyling, TV/video production, welding and cabinet making — all judged by top industry professionals.
The industry exposure is one of the reasons Leedham is glad he joined the program.
"The amount of support I've gotten from people from around the country, who had never heard of the program before, is amazing. In October, I was invited out to Vancouver to train at this turbine engine facility, in preparation for the competition," he said.
Leedham, whose favourite thing to work on is turbine engines, says the opportunities and networking from the program have been very helpful in furthering his career.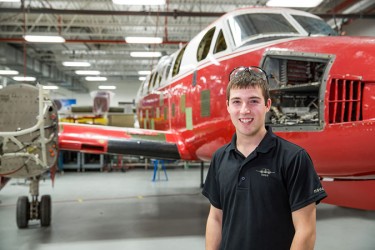 Todd Lintaman, an instructor at the Aviation Institute, has been Leedham's trainer throughout the competition, and says the program does wonders for the students.
"It gives a sense of achievement. I see their confidence increase, and it looks good on a resume," Lintaman said.
Shannon Campbell, spokeswoman for Skills Canada NS, said Nova Scotia performs quite well at the national level and brought back 12 medals from last year's competition. In her seven years with the not-for-profit organization, Campbell said she's seen substantial growth of the program in the province.
"It aims to change perception of excellence being a part of the skilled trades and technologies and focuses on a higher level of workmanship."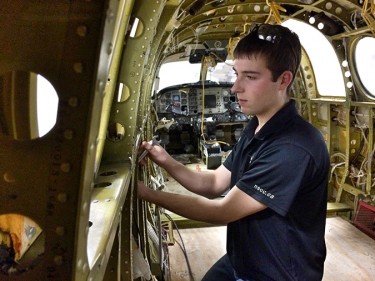 For Leedham, the connections and knowledge he's gained are worth the stress of competing in the timed events. He knows how he did in the competition but isn't allowed to share the results until Skills Canada has reviewed and approved the adjudications.
Campbell said Skills Canada will make an official announcement of the Team Canada selection in March.
"But unofficially, Ryan did very well. The judges were all smiling," Campbell said.