One quarter of homeless are young people: report
Shelter use by young women up dramatically, says group
November 23, 2012, 4:30 AM AST
Last updated November 26, 2012, 11:33 AM AST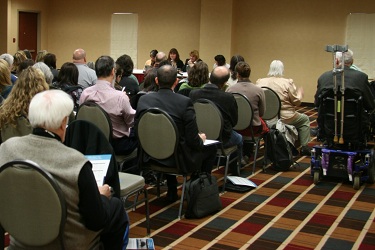 A group advocating for safe and affordable housing released reports Thursday suggesting that 27 per cent of homeless people in Halifax are young people.
The Nova Scotia Housing and Homelessness Network released two reports on homelessness in Halifax at a downtown hotel on Thursday.
Young women represented a dramatic change in those accessing shelters. Since 2009, females who have stayed in shelters between the age of 16 and 19 have increased 284 per cent.
Homeless advocates say a small portion of the homeless young people are attending university.
More than 75 people — including community, health-care workers and media — filled the conference room at the Four Points by Sheraton Thursday morning for the first day of a two-day conference.
The conference aims at creating discussion around the change in homelessness, housing and income in Halifax, with the goal of creating enough stable housing for all Nova Scotians by 2022.
Over the past three years, the Halifax Report Card On Homelessness 2012 indicates the number of homeless people has risen despite 240 people moving from shelters into permanent housing. The number of individuals who stayed in a shelter increased 14.8 per cent from 2009 to 2011.
Independent researcher Charlene Gagnon, the lead analyst of Health and Homelessness Network, says the reports were created to help bridge a gap which exists in collecting data on homelessness across the country.
Pamela Harrison of the Homeless Individuals and Families Information System described the increase of homeless people in Halifax as only a slice of the real number of homelessness. She says the actual number of people accessing shelters is more than 4,000 — including those who access shelters, leave to find housing, and return due to the of lack of options.
Gagnon says the report found of the 127 people interviewed in January 2011, "69 per cent said that the main reason they were still homeless in the city was because of lack of affordable housing options for them to access." Half of the people interviewed live on less than $200 a month, says Gagnon.
One new factor examined in the report was age.
While more than 50 per cent of the homeless individuals interviewed were between ages of 26 and 49, the report found 27 per cent were youths between 16 and 25 years old. Of the people surveyed who were homeless for less than one year, 41 per cent of them were youths.
University students and homelessness
Homelessness exists within the universities and occurs "when students come from home and don't have anyone to support them," says Harrison. If "(students) don't know how to manage money," they start accessing food-banks and health services more frequently.
Harrison says some students "are overwhelmed and drop out and end up in a shelter." She says youth services need to enable these students to get back functioning within society.
While the report did not specifically target university students and homelessness, Harrison said people need to understand not every single university student is the same.
"When you look at somebody next to you in the classroom, you don't know if they have a home to go home to tonight, you don't know if they're living in a shelter, you don't know if they have family that is sending them money if they need it," says Harrison.
"University students don't see themselves as shelter users but they do see themselves users of services for youth. So we're trying to increase that in Halifax."
Patti Melanson of Mobile Outreach Street Health says she met a Dalhousie student less than a week ago who had lost his accommodation and is now staying in a Halifax shelter. In these instances, Melanson says shelter usage is usually short term.
It's difficult to track the real numbers of students affected by homelessness.
Jean Hughes, a nursing professor at Dalhousie and a research contributor on the report, says some students find themselves homeless and "couch surf, staying at neighbours or friends, but not having one secure place to live." She says life is extremely difficult for homeless students desperately trying to get their degree.
"Moving around with no sense of routine or permanency is very disruptive."
Wendy Fraser the director of women's services at the YWCA Halifax says there are currently five women staying in shelters through their housing programs, who are currently working towards their university or college degrees.
Melanson says university students can help decrease the number of homeless people by "becoming more skilled in addressing homelessness in the community."
It's great that students volunteer but they "can't be in fix-it mode all the time," she says.
Melanson suggests students should challenge themselves within the discipline they are studying to become more aware of issues surrounding addiction, mental health and homelessness, and "translate it to the role (they) take on after university."