One woman is trying to change the way we see catcalling in Halifax
Stephanie Gill hopes to 'start a conversation' with her film about street harassment in Halifax
February 3, 2015, 9:26 PM ADT
Last updated February 6, 2015, 10:54 AM ADT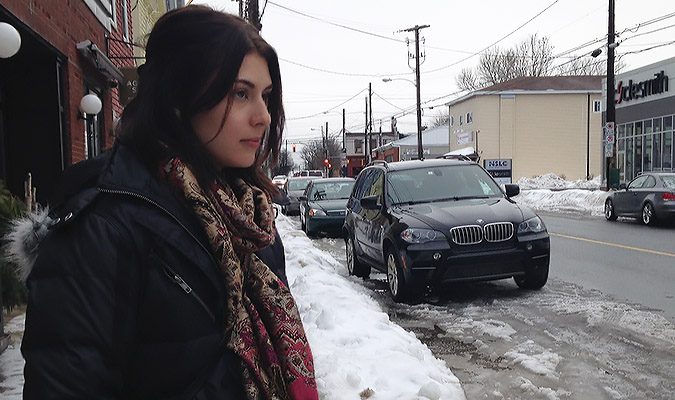 Halifax will soon get a closer look at catcalling in the city.
Stephanie Gill, a recent commerce graduate from Saint Mary's University, is filming a video about how street harassment affects people in Halifax.
While at SMU she joined Enactus, a non-profit organization that uses entrepreneurial skills to shape a better world, and was introduced to the issue.
"Through that I kind of discovered my passion for this," says Gill.
She aspires to spread awareness of catcalling in Halifax and provide a call to action with her film, which is set for release at the end of summer 2015.
"My idea is to create a conversation," Gill says. "I find a lot of guys might catcall because they don't necessarily understand it's harassment. Nobody really talks about it."
Her personal experience with street harassment has also helped lead Gill toward creating this film.
"I get catcalled very frequently. Like, almost daily," she says. "And when I talk to people about it, they don't think it's an issue."
Though Gill lives in Dartmouth, she doesn't believe the problem is any less prevalent there than it is in Halifax. And it's after dusk when the issue becomes glaringly apparent and can sometimes go even further than verbal harassment.
She recalls an evening at The Seahorse Tavern when she waited outside for a taxi after a show.
"This guy crossed the street and shook my hand," Gill says. "And he wouldn't let go and was holding on really tight. I had to pull my hand away and when the taxi came he wanted to get in and said, 'We can go together.'"
But her personal experience with street harassment doesn't take place only in the darkness of night. She says harassment happens in the light of day as well.
Gill remembers a time when she was returning home after a class at SMU.
"There was this older man at the bus stop. I was walking by and he asked if I knew when the bus came. I said, 'No, but I'll call for you' to be nice. Bad idea," she says. "He put his arm around me, and tried to kiss me on the cheek. And then he was whispering in my ear."
She says she has been followed by cars and even asked if she is a prostitute.
In her experience, Gill says that on a day-to-day basis, street harassers are not always as forward with their advances.
"It's not necessarily what they say to me," says Gill. "But sometimes when they say 'hello', it's just the way they say 'hello' and the meaning behind it."
She will be speaking with 10 to 15 people in Halifax with experiences like hers and hopes to make her film stand out from the pack by speaking to anyone: male, female, young and old.
Gill says she will enter the film in Nocturne to show it to a wider audience who may not have an interest in the subject. She says she worries if she held an opening night for the film on her own, only those who were interested would show up and there wouldn't be a new discussion generated.
"I want to create a different conversation. I just want people to look at this in a different way and maybe talk about it a little bit. And once you start talking about it you can start changing things."