Online soapbox the secret to DSU's ideas
Union gives students place to have their voices heard
January 15, 2013, 10:42 AM AST
Last updated January 17, 2013, 4:23 PM AST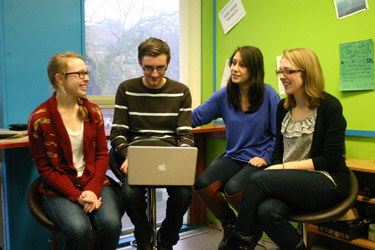 From the puppy room to the quiet room, the late-night study snacks to the upcoming FreeSchool event, the Dalhousie Student Union might appear to be especially in touch with its students' desires this year.
It's for good reason. All of these ideas came directly from students through an innovative online platform that's changing the way the student union interacts with its members.
It's called SoapBox: a website set up in September to solicit ideas for improving the university. The DSU licensed the product from a startup founded by a group of Ryerson University students, who are marketing it primarily to businesses. Dalhousie is only the third educational institution to try it.
It works like this:
A student submits a brief description of his or her idea to the website
Other students read the proposal, comment on it and vote it up or down
The most popular ideas are taken up by a branch of the DSU called the Sandbox team to see if they can be implemented
The simplest ideas, such as the book share now operating in the Student Union Building, can become reality within about two weeks. Others aren't quite so easy.
"Some ideas are a little unrealistic sometimes, such as bringing live tigers onto campus," chuckles Taylor Quinn of the Sandbox team.
But even "unrealistic" ideas get a fair shake. In his diligent reply to that submission, DSU president Jamie Arron explained that the plan is unworkable in Canada due to a previous "flurry of tiger maulings."
It's a level of engagement and transparency that wasn't achievable before. On SoapBox, students and their representatives converse about ideas out in the open. Progress updates happen in real time, and if an idea is rejected, an explanation is given.
At Dalhousie, where turnout in the last student election was 13.8 per cent, students are showing interest in the workings of their union.
The website's low barrier of entry helps foster that interest, says Sandbox director Becky Richter.
"I find that not a lot of people come to the (DSU offices) in person. The ability to just go online as soon as you have an idea and post it is really accessible, and I think a lot of students are coming out of the woodwork because of it."
Nursing student Tim Disher was impressed by the straightforward process when he submitted an idea early last term. His suggestion to create an instrument share – a place where students can borrow musical instruments for free – was brought to life in November.
Disher says he would probably have still made the suggestion without SoapBox, but he wouldn't have gone to the work of rallying support for the idea. The website took care of that for him by putting his idea in the public eye and inviting students to vote for it.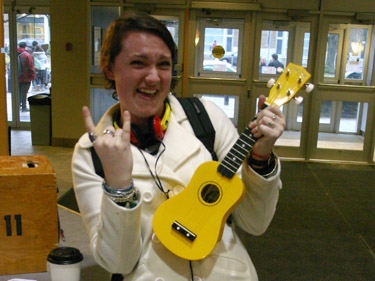 "It's pretty cool. I like it," says Disher of SoapBox. "It's a way to feel like it's not always just the people in charge coming up with ideas."
Since its launch, the DSU SoapBox has garnered 182 submissions: an average of between one and two per day. Forty of these have received official responses and 35 have been approved.
Richter considers the project "semi-successful." After the initial surge of interest at launch, activity on the site slowed. The Sandbox team is now working on a new promotional campaign to build on the momentum gathered from popular SoapBox projects like the puppy room.
If Dalhousie can prove the model works, it could set an example for schools across the country and even for higher branches of government. That's the hope of Warren Tanner, co-founder of SoapBox makers HitSend Inc.
"At the end of the day," Tanner says, "the lower we can make the friction for people to participate, the more we think people will participate. And that will give leaders better data on which to make decisions."
HitSend recently found its first political client: Toronto Centre MPP Glen Murray.
Like the SoapBox-sourced plan to ban bottled water at Dalhousie, ideas have a way of spreading.