Students rally against provincial education cuts
Protesters call for increase in government funding
November 18, 2014, 12:13 PM ADT
Last updated November 18, 2014, 7:44 PM ADT
What this assembled group of protesters lack in numbers and weather — the rally is held in bitter cold and pouring rain  — they more than make up for it in enthusiasm. Their umbrellas couldn't resist the pull of the wind, but they did.
"What do we want? Reduced tuitions fees," the crowd is chanting. "When do we want it? NOW!"
The 'Rally to Restore University Funding' counted roughly 150 demonstrators who stayed true to their promise of attending the rally "rain or shine" by keeping the protest for nearly two hours.
They protested the McNeil government for not living up to its promise of increasing provincial funding for universities by restoring $65 million in recent cuts to the education department. Attendees had to squeeze through the crowd to reach the Liberal Party's $300-a-plate fundraising dinner, held in honour of McNeil's first year in office, on Monday.
The assembled crowd chanted slogans in time with the resounding beat of drums as their fists, reddened by the chill, pumped the air and brandished flags and protest banners. Approximately 15 police officers stood guard at the entry of the World Trade and Convention Centre for the duration of the rally. They eventually moved to form a perimeter around the protesters who had spilled onto the street.
Michaela Sam, the Nova Scotia chairperson for the Canadian Federation of Students described "unprecedented challenges" faced by young Nova Scotians today.
"[Students] are tired of paying more for an education while funding cuts ensure that we are getting less," she said, addressing the crowd. "We know that low funding, means high tuition fees. It means we have less access to post-secondary education. And we know something has to change."
Tuition fees have increased dramatically over the last decades. The average tuition cost in Nova Scotia, $6,440 per year, is $481 above the national average. This upward trend is expected to continue in the next four years.
Skyrocketing tuition fees
Eighty-five per cent of Nova Scotians support reducing tuition fees according to an opinion poll conducted earlier this year by the CFS.
Universities and colleges have compensated for the federal and provincial funding cuts by increasing tuition fees. The financial burden is shouldered by the students. Tuition fees cover about 50 per cent of a university's operating budget when previously, government grants covered roughly 80 per cent of the costs.
The Canadian Centre for Policy Alternative predicts the average cost of tuition in Nova Scotia will increase by 10 per cent in 2017-18 to $7,067. This would be consistent with the 10 per cent cuts in public funding of universities over the past three years.

Undergraduate tuition fees for full time Canadian students
Aidan McNally is a student board of governors representative at the University of King's College and a student. She says decreased funding from the government is putting a strain on students and faculty members.
"It really comes down to what you believe," McNally said. "Whether you think education should be accessible to everyone, or should be exclusive to the privileged few." Unsurprisingly, she believes post-secondary education should be more affordable so not only people who can afford over $6,000 in tuition annually can attend university.
Alongside the protesters, Michaela Sam called on the Liberal Party  to restore funding to post-secondary education in order to decrease student debt.
"We'd like to see an increase to funding of post-secondary education," Sam said in an interview. "We'd like to see a youth strategy that recognizes the role that you have in the Nova Scotia economy. As a solution, she proposes converting Nova Scotia's student loan program to needs-based grants, which is a proposal Newfoundland and Labrador adopted earlier this year.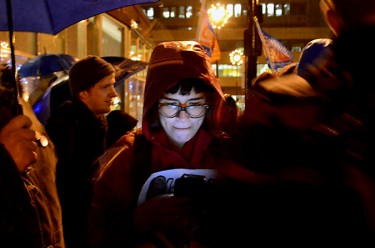 Michelle Lucas, a spokesperson for the Department of Labour and Advanced Education, says the department is aware of the considerable costs shouldered by students. Their response to this mounting debt has been to "eliminate provincial student loan interest" and "support bursaries and capping debt."
The Liberal government stayed true to its promise not to collect interest from student loans this year, which amounted to $2.5 million in 2013. Moreover, operating grants are projected to increase by one per cent in the budget of this fiscal year.
Lucas says the department is committed to including more students in discussions relating to improving the university system. She wants to assure students that they will be consulted for the next Memorandum of Understanding with universities.
"We talk to our students more than any other government in the country," Lucas says. "As we should." However, students have noted a lack of transparency in the way government consultation with student groups are conducted.
Progressive allies
Despite the fact that students led the rally, union workers and activists attended the rally in considerable numbers. The students alongside union workers presented a united front against the McNeil government.
Suzanne MacNeil, a trade union activist and member of Unifor, was present at the rally because she is really displeased with how the government has treated healthcare workers with her union. She recognized that impoverished students and disgruntled union workers have shared interests and shared grievances.
"I'm here with the students and the workers to call attention to the nastier things that this government has done in their first year,"  MacNeil said.
In early October, the Nova Scotia government introduced a health care bill that reduces the collective bargaining rights of health care unions. The Health Authorities Act also cuts the number of bargaining contracts from 50 down to four. Health care workers showed their opposition in a number of protest rallies.
Joyclin Coates, a member of Unifor and the Halifax-Dartmouth & District Labour Council, attended the rally because she believes that unions, workers and students are all "under attack by [the McNeil] government.
"They are trying to take us back in time 50 years. We got to stand up against it," said Coates.