Two express immigration streams coming soon
Nova Scotia Demand Express Entry to be launched on Jan. 1, 2015
November 20, 2014, 11:04 PM ADT
Last updated November 27, 2014, 8:44 PM ADT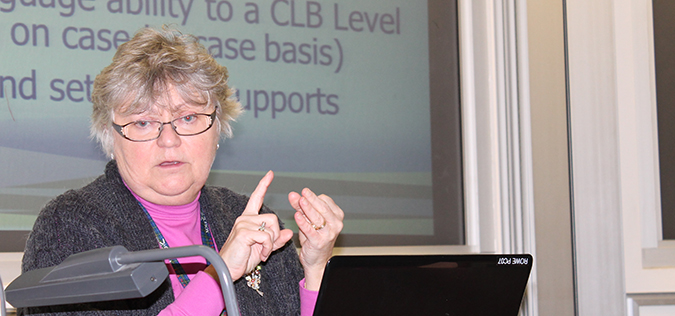 Nova Scotia Immigration will launch two new express immigration streams in 2015.
The announcement was made by Nadene MacAulay, manager of the provincial Nominee Program, at Dalhousie University on Thursday afternoon.
MacAulay spoke briefly about the upcoming Nova Scotia Demand Express Extry stream and a potential business stream at an event organized by the Dalhousie University International Centre.
"Premier McNeil and his cabinet are big on immigration," said MacAulay. "Especially entrepreneurship."
Although she didn't reveal much detail about the business stream, she asked attendees to "stay tuned" and monitor Nova Scotia Immigration's website.
Under the Demand Express Entry stream, high-skilled students and temporary foreign workers can apply for permanent residence with lower wait-times.
The service rides on the coat-tails of the federal Express Entry system, which will be implemented in January 2015.
The goals of both the provincial and federal express streams are to effectively manage applications for permanent residence, with lowered processing times, she said.
Nurses, engineers, dentists, financial managers and architects are among the professions which the Express Entry stream will favour as part of its focus on immigrants with skills in high-demand.
Nova Scotia Immigration is responsible for overseeing immigration to the province. It partners with Citizenship and Immigration Canada, which is ultimately responsible for permanent residence applications.

Chen Qing, a Halifax business owner, immigrated to Canada from China in 2009. Currently on a work visa, he's been having difficulty with a lack of immigration streams. "I'm the [business] owner who's trying to get permanent residence, but it's hard because there's no stream like that right now," he said.
He hopes the Demand Express Entry stream will also cater to immigrants who are employers, not only employees.
For Ehsan Nasiri, a PhD student from Iran, finding the right job is more concerning than applying for residency. "Right now it's difficult for me, but I realize that if I have a job offer after graduation I can easily apply for immigration."
Demand Express Entry applicants must have have an International English Language Testing System (IELTS) score of seven or higher and a minimum of 67 immigration points.
The stream comes into effect Jan. 1, 2015.