Dal's board of governors votes down divestment
Financial cost too much, commitment to sustainability still important, board members say
November 25, 2014, 7:22 PM ADT
Last updated November 26, 2014, 4:42 PM ADT
This story has been updated since initially published.

Dalhousie University's board of governors voted yes on a motion to not divest the institution of fossil fuel investments in a meeting Tuesday afternoon. While the board encouraged further discussion into sustainability and fossil fuels, it did not open the door to divestment.
The investment committee of the board of governors submitted a report outlining the benefits and drawbacks of divesting. Ultimately, the substantial financial cost and disagreement among members over the principle involved led to the decision.
The galley in University Hall was at full capacity, with some spectators forced to stand along the walls or peer through the glass doors. Many were supporters of the Divest Dal student movement, with students and faculty representing all sides in attendance as well.
The investment committee's report highlighted Dalhousie's commitment to sustainability and further education on the matter. It also discussed the financial cost and practical challenges involved.
The report lauds Dalhousie's efforts in sustainability, highlighting the creation of the country's first college of sustainability in the 2007-2008 academic year. However, the board also pointed out that while considering divestment is part of the university's mission, there are other factors to consider.
The university has a significant financial investment in industries that the student movement wants them to leave. According to the report, Dal's endowment portfolio includes 10 coal companies and 25 oil and gas companies listed in Divest Dal's 200 companies with the largest coal reserves. Dal's total investment with these companies is $20.3 million, equal to 4.3 per cent of the overall portfolio.
Achieving divestment would be far from simple, the report concludes,
Approximately 78 per cent of Dalhousie's investments are "co-mingled funds" involving other institutional investors, the report states. As well, "Dalhousie has a duty to manage its investments in a manner that maximizes investment returns within a tolerable risk profile."
The report goes on to state that the university has received more than 1,300 gifts from benefactors totalling approximately $500 million. These gifts from potentially divested donors have already been used for scholarships and bursaries, salaries and other university spending.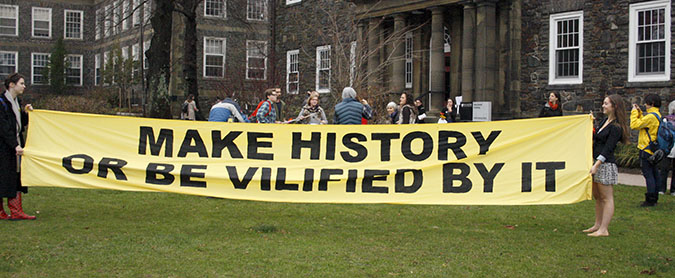 George McLellan, who read the investment committee's report to the board, understands the precarious nature of divesting completely from substantial donors. "We are certainly encouraged by what we see with these oil players. They are investing in moving the nature of their business."
From the perspective of students currently enrolled in geology and engineering programs, the report urged the board to consider the impact it would have on them as well as on alumni and donors.
"Don't say you've contacted everyone when you haven't," said Carla Dickson, a master's student in earth sciences at Dal. Dickson approached the board of governors to speak during the session after hearing that no view other than Divest Dal's was being heard.
"I am happy with the board's decision to not divest at this time," she said. "Our group will remain active and I hope [Divest Dal's] will too."
After the motion not to divest passed, protesters inside began chanting at the board members and subsequently filed out. They then staged a sit-in inside the Henry Hicks building to carry on the discussion.
Dickson disagreed with the gesture.
"They've had their say, which is fantastic, and the board carefully, clearly considered what they had to say quite seriously. It was not at all appropriate for them to stand up and react like that," she said.
Despite the board's decision, a member of Divest Dal was still upbeat.
""I think that despite that vote today we have reached and ignition point for our campaign that will allow us to move forward and grow even stronger in our voice and in our student involvement and pressure," said Emi Belliveau, the media correspondent for Divest Dal.
"The next step is to continue to build our campaign and our student movement. We will certainly make sure that we are visible. And we will let the board know that we are continuing to grow."
Update: Correction to a name - Carla Dickson, not Dixon.