Students shut down Halifax traffic in Day of Action
Rally targets high cost of post-secondary education in Nova Scotia
February 4, 2015, 6:25 PM ADT
Last updated February 9, 2015, 11:03 AM ADT
This story has been updated since initially published.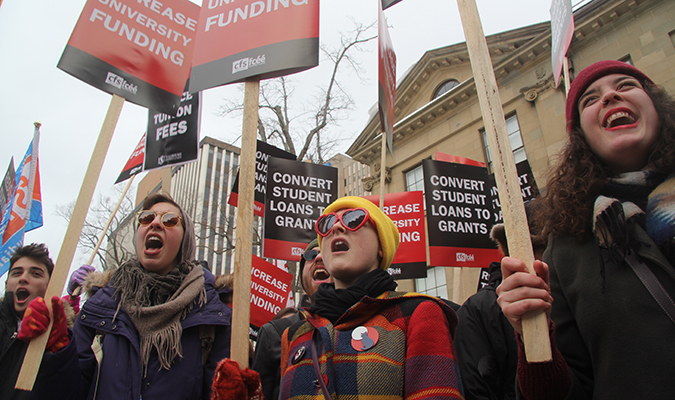 Students took to the streets of Halifax on Wednesday as part of the Day of Action organized by the Canadian Federation of Students Nova Scotia.
The march wound its way from the various campuses through the downtown core and ended in front of Province House in the mid-afternoon, blocking downtown traffic for more than an hour. Police escorted the students and tried to direct traffic around the march.
Const. Pierre Bourdages, community safety officer for the Halifax Police, said police were caught off-guard by the crowds.
"We were not expecting that to take to the streets, they were supposed to stay off the streets," he said.
"There was no control of the crowds … but thankfully we had officers monitoring that were able to get in front and behind the crowds to be visible for motorists."
Bourdages stressed the safety risk of not alerting police in advance — proper communication with police means everyone's safety is assured and motorists aren't severely affected.
"There were no reported incidents, but traffic was severely affected and streets had to be shut down."
Brendan Elliot, spokesman for Halifax Regional Municipality, said that the city was officially unaware of the march.
"There is no record of issuing a permit for the event today."
A parade permit, which is free but does not include any police costs incurred, is needed for any event taking place in the streets, such as a march or marathon, that could affect traffic under Section 90 of the Motor Vehicle Act.
Failure to secure a permit could result in fines if there are complaints filed with the city.
"Fines are mostly driven by complaints. If someone files a complaint with the city, then we follow up and then investigate," said Elliot.
Organizers of the protest, however, were very pleased with the turnout and said the government needs to lower tuition in order to make living affordable for students.
"We are being raised in an environment where we are encouraged to be more competitive, less altruistic and less community minded, because we are just focused on paying off this damn debt," said Paul White, student union president at Mount Saint Vincent University.
The NDP showed their support for the cause with Truro MLA Lenore Zann speaking at the Province House rally, and Sackville-Cobequid MLA Dave Wilson and Halifax Needham MLA Maureen MacDonald  walking alongside students.
Anna Dubinski, national treasurer for the Canadian Federation of Students, spoke to the crowds at the downtown rally.
"Last year I was in a student government roundtable when students demanded the government reduce tuition fees. And the minister of finance told us that believing in tuition fee reductions was like believing in unicorns. Well you know what, I believe in unicorns."
Students out at the protest had mixed reviews on its usefulness. 
"I'm here because I think the expense of an education is grossly higher than it was in our parents' generation, I think that's an enormous problem," Ariel Weiner, a fourth-year student at King's, said.
"With that said, I don't know that these demonstrations are the best way to effect change since we've been doing it since the '80s and the trend has not changed. Then again, I have not come up with a better solution, so I figured I'd come out here and carry a stick."
Jordan Baraniecki, a BFA student at NSCAD, said that his lack of student debt didn't deter him from joining the protest.
"I actually don't (have any student debt), but for the people that do have a lot of debt I'm kind of marching for them."
Caleb Hung, president of the student union at NSCAD, said that the previous government has been critical of NSCAD's spending, like 24-hour access, a service that students see as essential.
"Through the past few years we've been experiencing a lot of cuts in our institution … so our school has to be a lot more stringent about our finances and so as a result of that, there has been a lot of course cuts and more hiring of part-time faculty which means that students are actually having less and less time available with their professors," Hung said.
While the lasting impact of the protest is still to be seen, the short-term effects were on display after the rally. Discarded signs lay in front of a downtown Starbucks and were stuck in snow piles in parks and campuses across town.

With contributions from Keili Bartlett, Graeme Benjamin, Andrea Gunn, Emily Sollows, Angela Crozier, Dylan McAteer, Thoshlae Smith, Katie Thompson, Erin Way and Jake Saltzman.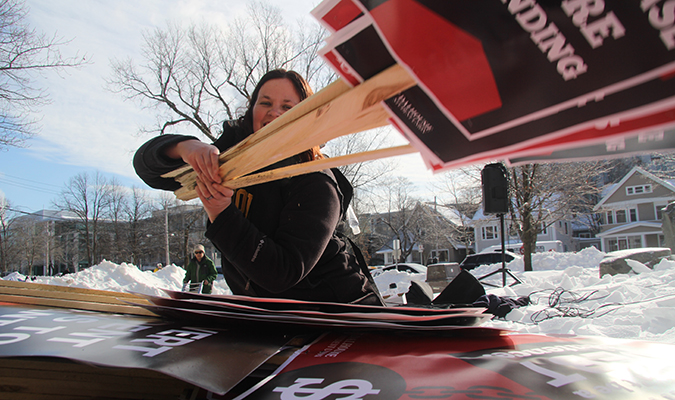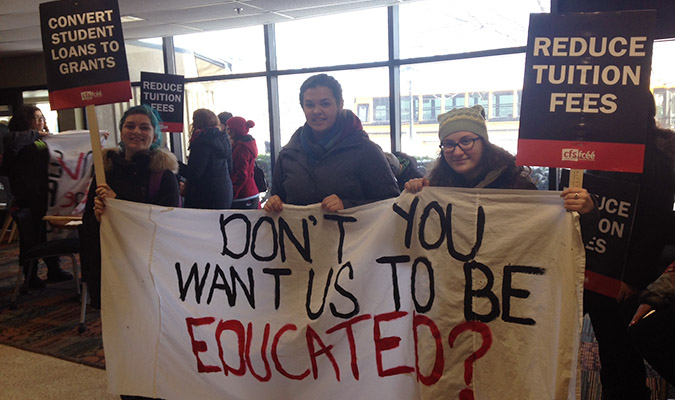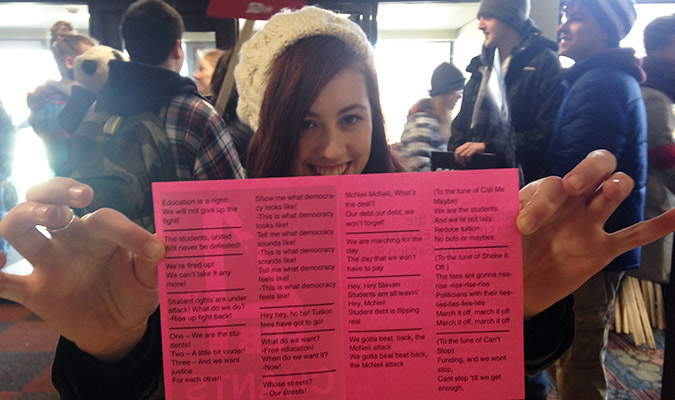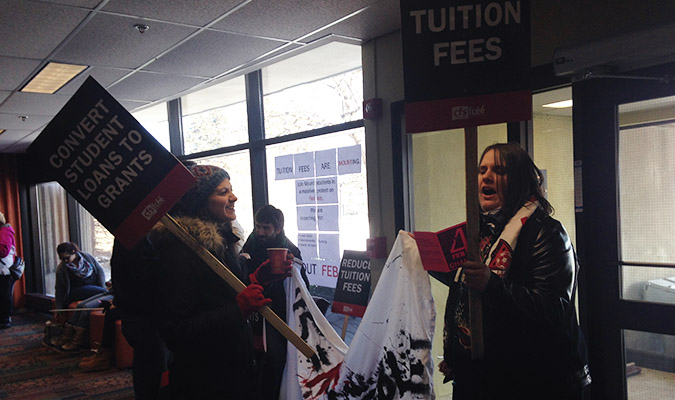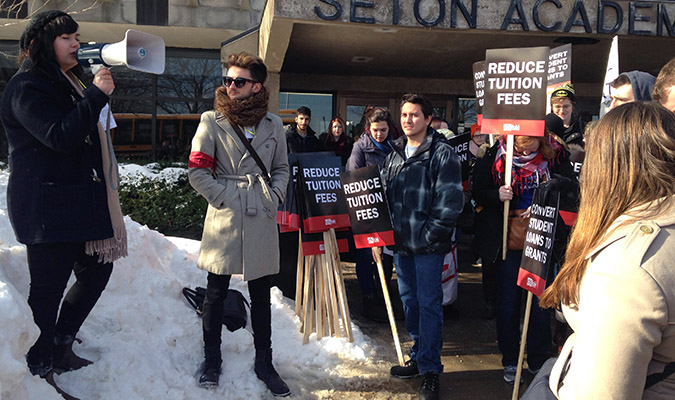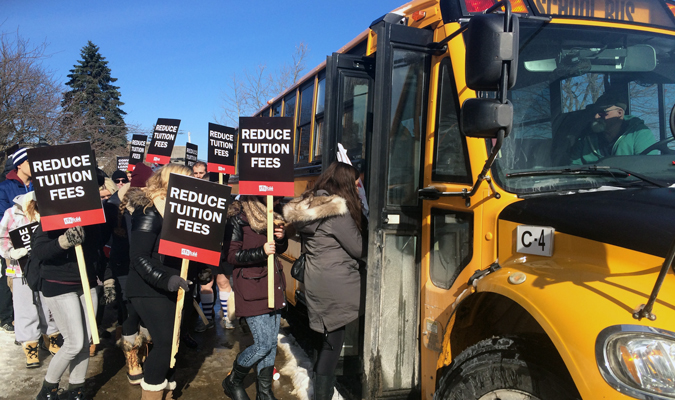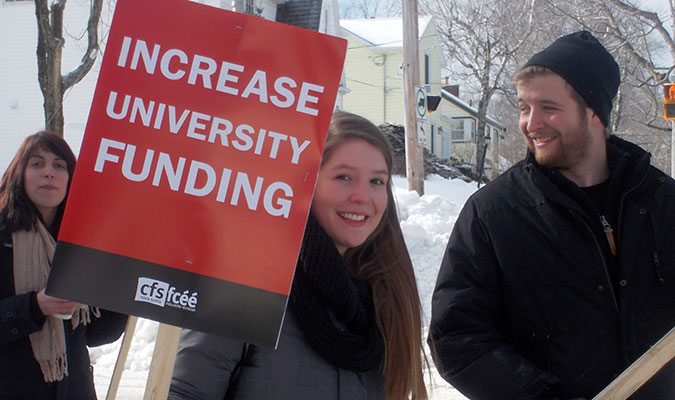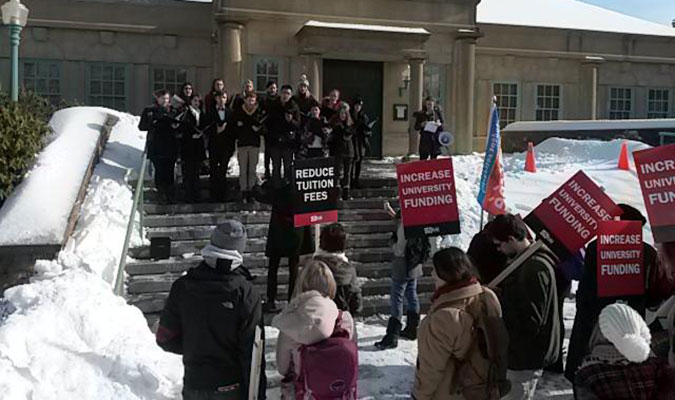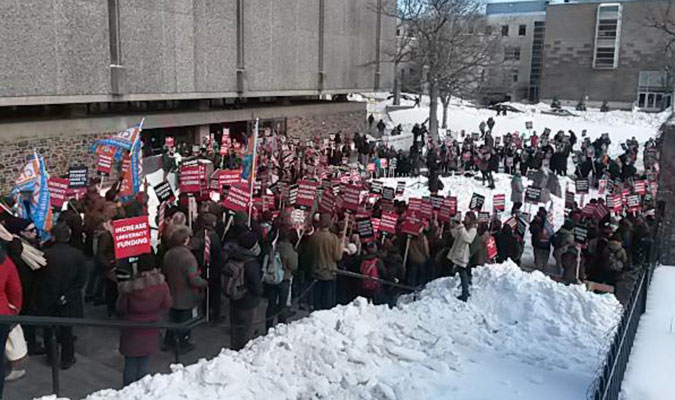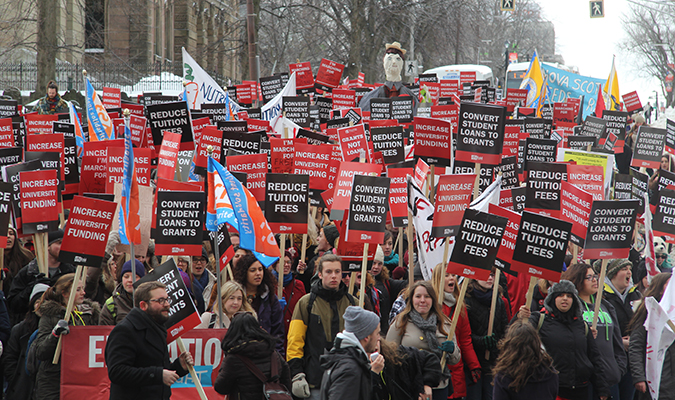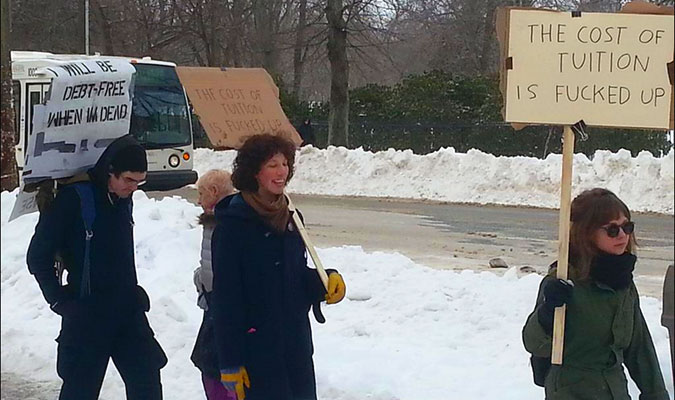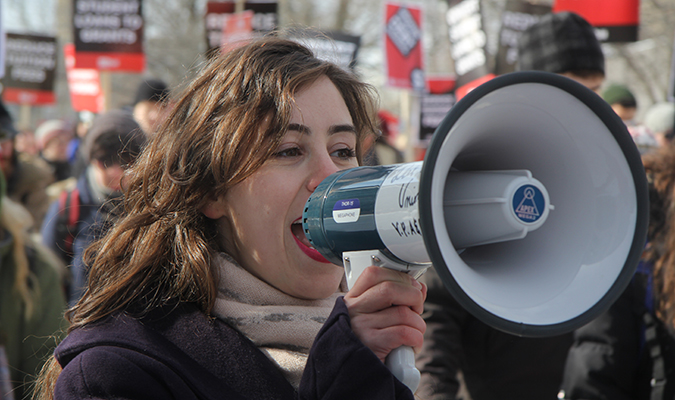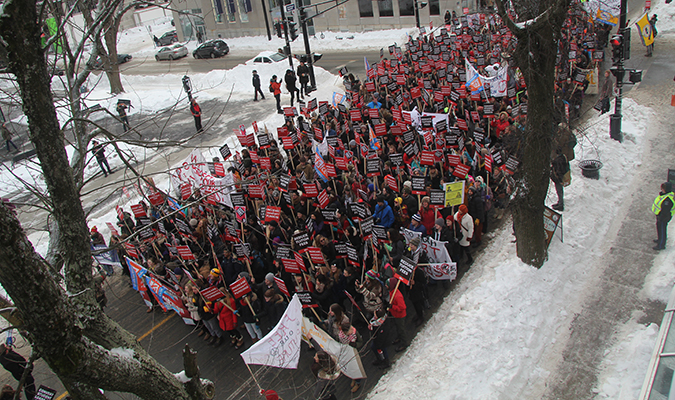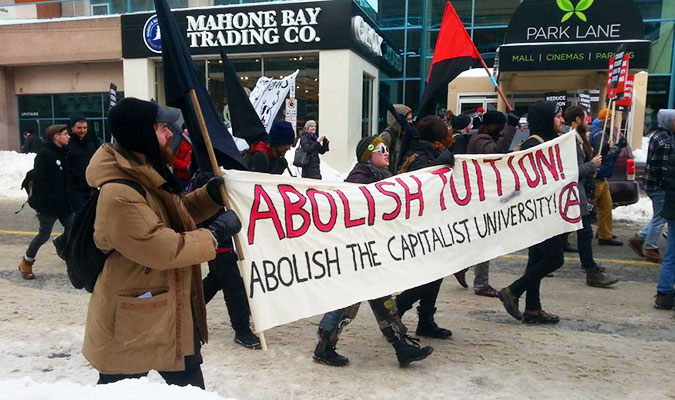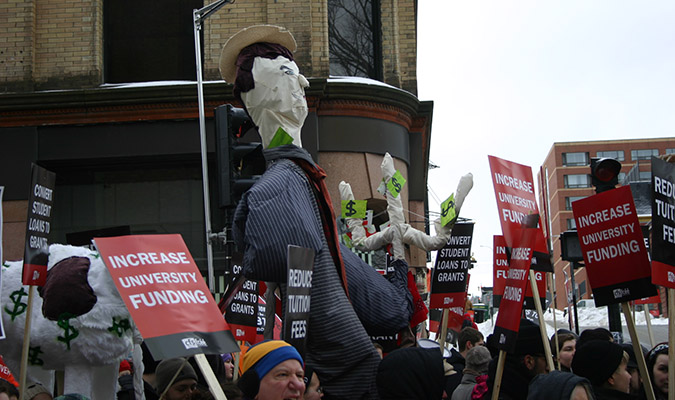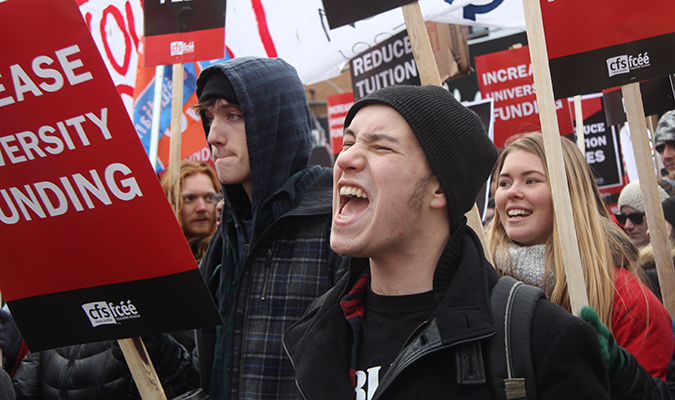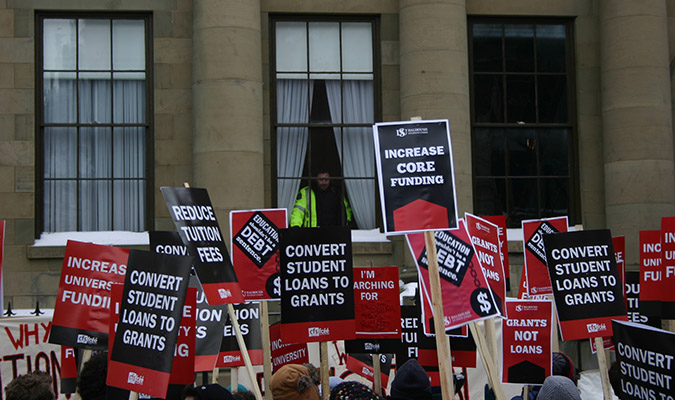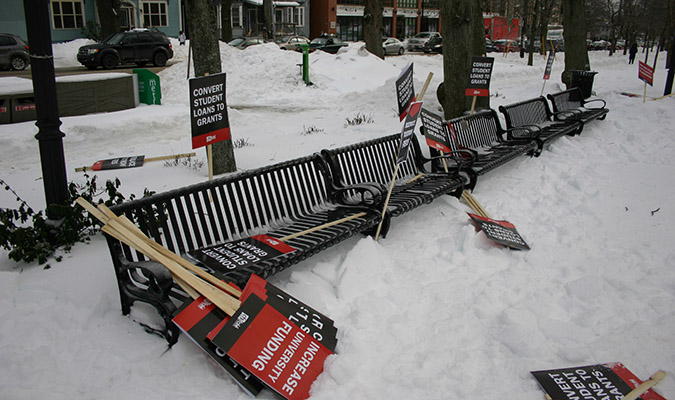 Update: Feb. 5: An earlier version of this story incorrectly identified Anna Dubinski as Andrea Dubinski.