Paramedics may be lacking mental health training
Despite high volume of mental health-related calls, paramedics say training is 'very minimal'
February 5, 2015, 4:52 PM ADT
Last updated February 9, 2015, 11:14 AM ADT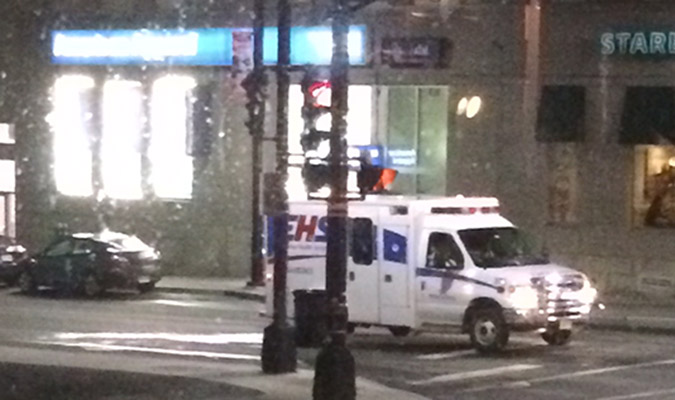 Paramedics are not getting sufficient training in addressing patients in mental health crises, according to some first responders in Nova Scotia.
Mental health training is "minimal, definitely out of focus," says Adam Johnson, a Nova Scotia paramedic whose real name we've agreed not to disclose.
Johnson says that cases of mental unrest exist in almost every call they receive.
"When someone calls 911 it's often at their most vulnerable. I think almost every call we go to has an aspect of a mental crisis."
He says there is some training, a chapter in the textbook and information for paramedics to access, but "we could definitely use some more".
Johnson says he was not entirely comfortable with the amount of training he had in dealing with patients in mental health crises when he graduated.
Daniel Smith, who also asked not to be identified by his real name, is a paramedic working in the Halifax area with seven years of experience. He says the training in school is "very minimal," and that most of his knowledge in dealing with mental health patients comes from experience.
"Paramedic training in Nova Scotia is a one-year course. So that means we have to learn everything that we need to know in that short time," says Smith. "Unfortunately we don't go as in detail with mental illnesses."
However, Mark Walker, manager of Clinical Services at Emergency Health Services, says paramedics are trained in mental health both in their primary education and through continuing education while working.
"Supporting and treating patients with mental illness is complex, and the training that paramedics receive must reflect this," says Walker.
"The prevalence of mental illness is one reason that EHS has taken a firm stance to continue to provide ongoing education and resources to help paramedics provide as high a standard of care as possible."
Dave Wilson, NDP MLA for Sackville-Cobequid and former paramedic, says mental health training needs to improve.
"Most of what you're taught is the result of a physical finding," says Wilson. "When you're dealing with mental illness it's very difficult."
Wilson has introduced legislation for post-traumatic stress disorder to be covered under workers' compensation. He says if mental health training is improved, it would hopefully help paramedics identify their own mental health problems.
Johnson also thinks having additional mental health training would be beneficial in helping paramedics deal with their own issues of mental illness.
"Anything you apply to one of your patients hopefully you'd be able to apply to yourself," he says.
Johnson says that in his training at Holland College, each paramedic had to do rotations in psychiatric units.
"That's pretty beneficial because the nurses and the staff that work in the psychiatric unit are the most knowledgeable in that sense and you take a lot from it."
He says programs could use more of this type of hands-on training.
In 2013, mental health first aid courses became available to the public. The basic course is 12 hours and provides information on identifying mental health issues, treatment, and helping a person with a mental health problem find professional support. The cost of the course is $120 per person.
The Mental Health First Aid Canada website says it's an interactive course that "can benefit teachers, health-care professionals, emergency service workers, human resource professionals, employers, managers and supervisors, community groups, and the public."