Pedestrians can get crosswalk fines too: police
Take out those headphones and look both ways, or it could be a $400 fine
December 1, 2013, 6:12 PM AST
Last updated December 1, 2013, 6:12 PM AST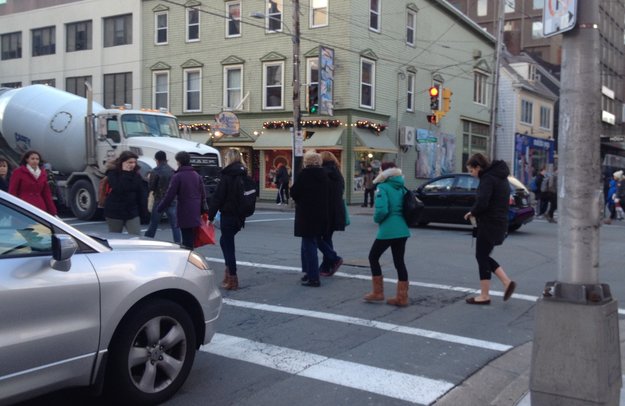 Most people are aware drivers can be fined during crosswalk accidents, but pedestrians need to be aware they are not exempt from fines either. According to the Halifax Regional Police's Sgt. David Reynolds, who went over crosswalk safety regulations at a municipal transportation committee meeting this past Thursday, drivers can only do so much.
"A pedestrian is not always right. When they approach a crosswalk, either marked or otherwise, it isn't just a matter of stepping out. The pedestrian too has certain responsibilities," says Reynolds.
Due to a recent spike in pedestrian collisions, including an accident less than two weeks ago involving a university student crossing three lanes of traffic in south-end Halifax, the transportation committee asked Reynolds to clarify some misconceptions about crosswalk safety.
A Q&A sheet drawn up by the police states pedestrians can receive tickets for up to $400 for walking into the path of vehicles at crosswalks, failing to activate crosswalk lights, crossing outside of a crosswalk and failing to yield to vehicles.
Pedestrians can also receive tickets for around $150 for failing to obey traffic signals and failing to move in the right hand portion of the crosswalk.
Halifax Regional Police defines a crosswalk as being a part of a roadway ordinarily included within the extension of curb lines and property lines at intersections or any other portion of a roadway clearly indicated for pedestrian crossing by lines or other markings on the surface.