People with autism spectrum disorder struggling to find jobs in N.S.
Employers must stop seeing them as charity, recognize benefits, says Autism N.S.
February 11, 2015, 5:20 PM ADT
Last updated February 13, 2015, 11:12 AM ADT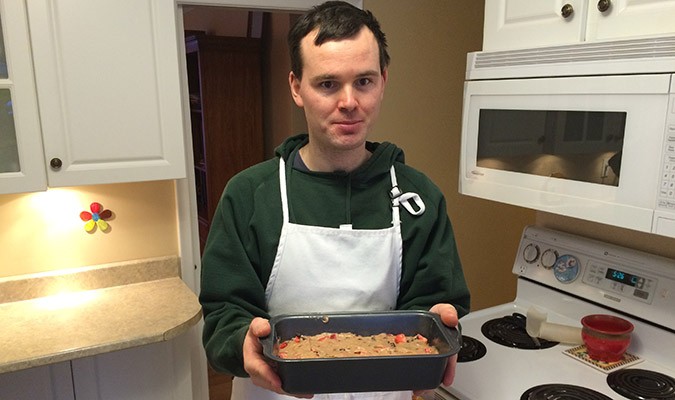 Iain Downey, a 26-year-old man with autism spectrum disorder, had been through a wealth of programs, volunteering and work terms when he decided to make a business out of his gluten- and dairy-free baking.
Heather Downey, Iain's mother, says seeing Iain struggle to find employment is "awfully, awfully hard."
"They go out with so much optimism, then what do you tell them? It's really hard to see them try so hard and go nowhere."
She says at least with this small baking business, he's doing something.
Iain's Incredible Edibles is based out of their family home in Dartmouth, N.S. and has a Facebook page with more than 300 "likes". His favourite treat to bake is ginger mounds, "because I don't have to look at the recipe," he says.
According to a study done in 2006, 44 per cent of people with disabilities are not in the labour force at all, more than twice the number of people without disabilities (20 per cent). People with learning disabilities, including ASD, make an average of $18,172 per year. People with a general disability make $29,669 per year and people with no disabilities make $37,944 on average annually.
Brian Foster is the regional autism co-ordinator for Atlantic Canada with Ready Willing and Able, through Autism Nova Scotia. RWA is a new initiative that aims to educate employers on the benefits of hiring people with developmental disabilities.
Foster says employment programs for people with ASD help, but don't always lead to a job. He says employer education is what's missing.
"We can have all the programs we want but if we can't get employers to hire and to stop seeing them as charity cases … it's all for naught," he says.
Iain went through high school without needing modification, then excelled in a general arts and sciences program he took at NSCC. He's been in employment and volunteer programs since 2006.
Foster says the job market is hurting for everyone. "People with ASD are being swept up into the same currents that everyone else is, but they're experiencing it much more acutely. They're feeling it in a much, much harder way and it's hurting," he says.
Foster says once employers are educated on the benefits of employing people with ASD, they often come around.
"They are adding to the productivity and to the culture of your workplace. They're making it a richer place," he says.
Iain says he likes being his own boss. His mother says the business is good for him, but he can't support himself entirely from it.
"He never complains about baking," says Heather, "even over Christmas when he had a whole spreadsheet of orders."
Heather says employers need to be educated on the benefits of having an employee with ASD. "They have this picture in their mind of what autism is."
She says employers must be "willing to give them a chance."
Iain is in a 40-week placement through TEAM Work Cooperative at a local bakery. His mother says he's been through several work placements, but has not been successful in finding employment.
She's hopeful his current placement will lead to employment for her son. "They say he's working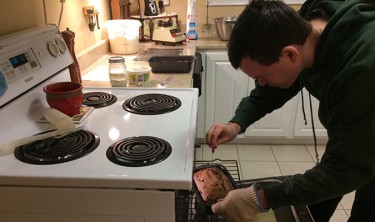 above average," says Heather.
Foster says says there's a business case for employing people with ASD as well as a community case. Absenteeism, and workers' compensation claims go down with a more diverse workforce.
"The average retention time for an employee is a year and a half. The average retention time for somebody with ASD is seven years." Foster says.
Heather says employers should think outside the box. "They have no idea that they're doing themselves a favour."
Foster says awareness needs to be broadened. "We've always relied on employers who had a son or a daughter or a cousin with (ASD). There are literally thousands of businesses that don't have that connection. So we're there to build it."
Lauren King, 27, has ASD and is working through The Promise of a Pearl program through Autism Nova Scotia. The program uses the production of jewelry to teach participants about the different aspects of working and running a business.
David Paterson, education and employment co-ordinator at Autism Nova Scotia, says the program has become an employment service that helps find jobs for its participants, who also work on building their resumes and apply for listed jobs.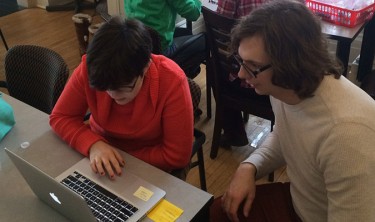 "I hope I can get a job, even if (the employers) know about people with disabilities," says King.
"I'm very capable."
King says her ideal job is "doing office work because I'm a great typist." She says she is also good at filing, sorting and answering phones.
"We really want employment for all of us," says King.
Foster says the only thing holding people with ASD back from employment is stigma, and people's fear and lack of education.
"We've got more tools than we've ever had before but ultimately what it comes down to is whether or not employers are willing to diversify," Foster says. "We built the pond, we filled it with water, we brought the horse to it, and now we're just like, drink."
Having a disability is "not all of who you are. It's just a small part," says King. "We all bring something special to the world."