Pioneering program is template for StFX's We Day
University held its own workshops Wednesday to further the cause of social justice
November 27, 2013, 5:53 PM ADT
Last updated November 27, 2013, 10:52 PM ADT
Halifax may have hosted the first-ever Atlantic Canada We Day, but the university that sponsored it has been at the forefront of social justice education for years.
St. Francis Xavier University was the educational sponsor for Atlantic Canada's We Day. This means while We Day was going on in Halifax, StFX put on their own We Day as well. About 250 high school students from across the province got to participate in five concurrent workshops surrounding issues of leadership and social justice.
"We're reinforcing the similarities and connections between us," said Marla Gaudet, program manager for Service Learning at StFX. Gaudet was part the committee organizing We Day at the university.
Service Learning is considered Canada's pioneering service learning program. The program began in 1996. It provides similar opportunities to We Act and Free the Children, sending students overseas for varying lengths of time to provide services to communities that are in a state of change or could use support.
As about 8,000 students from across Atlantic Canada gathered to hear motivational speakers, musicians and actors speak in Halifax, more students from across Nova Scotia gathered at St. Francis Xavier University to participate in activities and watch the show live.
Emily Miller is a fourth-year student at StFX and the founder of the Free the Children society at the university. When she was in Grade 11, she traveled to India with Free the Children on one of the organization's Me to We trips.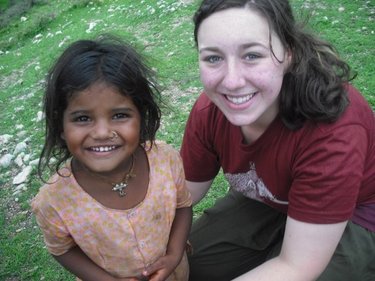 "That's where I started with Free the Children and ever since then I've just been connected with them," said Miller, who has participated in the youth in action academy with Free the Children. Miller was also one of the students volunteering Wednesday at We Day in Halifax. Her job was to help usher the youth to their seats.
"Honestly, the energy in the room I think is going to be through the roof," said Miller before the show. "Just having that many students — 8,000 packed into a room is amazing."
One of the things Miller likes most about Free the Children is that it's an organization filled with a majority of young people. Co-founder Craig Kielburger started the organization with his brother Marc, when he was only 12 years old.
"They have such amazing messages," said Miller. "The fact that you don't buy a ticket to We Day, you have to volunteer to get in, I think that's teaching students to live a more positive life and that you can be rewarded for volunteering."