Pole fitness gaining momentum in Halifax
Students latching on to popular workout option
January 14, 2015, 4:35 PM AST
Last updated January 14, 2015, 5:22 PM AST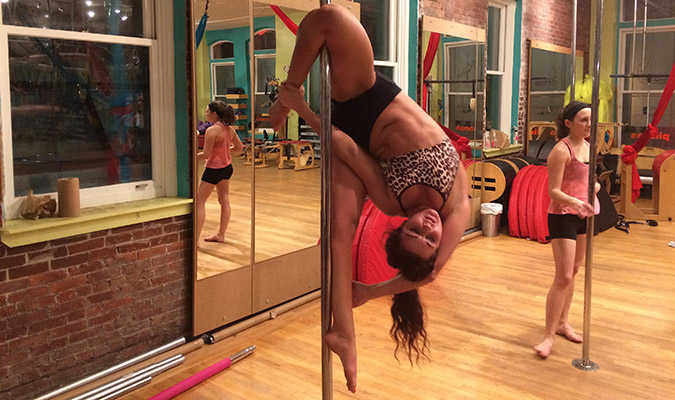 You may have noticed posters for pole fitness classes popping up across campus. But it's not a new trend. Tori Fleming of Studio in Essence, a Halifax pilates, acrobatic dance and wellness centre, says many college and university students attend pole fitness classes often. 
Studio in Essence is 10 years old. Fleming says it has been offering pole fitness classes for nine years, and was the first studio in the region to offer the class. However, the same classes are offered at Trena's Studio in Bedford and Hello Body in Dartmouth.
So what's the reason behind this growth in pole fitness interest?
"It's like a secret workout," Fleming says. "There's good music, and it just feels like spending an hour hanging out with your friends."
And hanging out with friends was surely the atmosphere in a recent Studio in Essence Level 7 expert pole acrobatics class. Level 7 is the most challenging level the studio offers. The women talked, and laughed, while pulling some pretty impressive moves on the pole.
The International Pole Dance Fitness Association's website says pole fitness originated in 1994 from a mixture of Chinese circus performances, Indian pole wrestlers, and Western world exotic dance.
Spinning, hanging upside down, and trying new moves is the norm, so there are some obvious risks included in the activity. However, one participant says injuries aren't a big concern.
"Most of the time it's just bruises, sore muscles, sometimes you get the occasional ding where you hit your toe the wrong way," says Level 7 participant Heather Nielson.
"It's always really safe here, everything we are trying for the first time, we were doing spotting, and there's crash mats in case for some reason someone wasn't feeling completely safe on their own. From a very beginning level we learn how to fall properly and how to land so we're not going to hurt ourselves."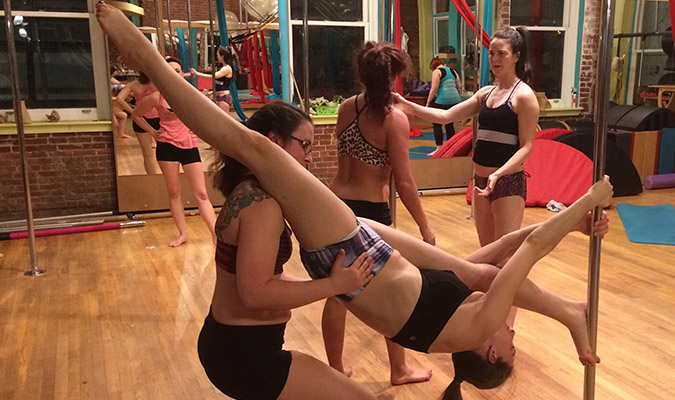 These women shouldn't be underestimated. Pole fitness helps build upper body and core strength, Fleming says. It's evident in their ability to hold themselves up on the pole and alternate between a seemingly infinite number of positions.
The women in the class not only do pole fitness for fun, but have also competed at a national level.