Halifax Police investigating anti-Muslim graffiti at Dal
Dalhousie security has turned over investigation of campus prayer spaces to police
February 3, 2015, 4:34 PM ADT
Last updated February 4, 2015, 10:18 AM ADT
Halifax Police are investigating incidents of hate graffiti found on the Dalhousie University campus last month.
Two separate incidents of Islamophobic graffiti appeared in the quiet rooms in the Killam library and the LeMarchant residence, two popular on-campus prayer spaces.
Jake MacIsaac, community safety officer for Dalhousie security, said the graffiti was reported directly to Dalhousie security, after which they immediately contacted police.
"It's such a serious incident that we take it very seriously," MacIsaac said.
"Our normal procedure is to shield off the area, involve police, let the police take pictures and then remove the graffiti immediately."
MacIsaac didn't want to speak any further on the issue because he doesn't want to jeopardize the ongoing police investigation.
Halifax Police spokesman Const. Pierre Bourdages confirmed that there are two ongoing investigations spurred by the graffiti.
"The incidents were reported on Jan. 13 and Jan. 23 and were very similar in type. There is a general investigation in order to determine if we can (identify) who did it and if criminal charges can and will be laid," Bourdages said.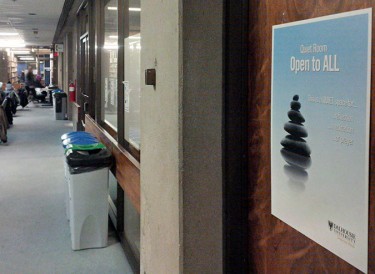 Ramz Aziz, president of the Dalhousie Student Union, says that the DSU does not condone any behaviour that marginalizes minorities or jeopardizes any students' comfort and safety on campus. Aziz says that visible minority students experience racism on an individual level and that incidents like the graffiti don't occur often.
"But they do happen, which is problematic," he said. "The school is going through an adjustment phase, as the Muslim student population increases, of 'how do we deal with these people.'"
Dalhousie's growing pains are something Muslim students are well aware of. While the school is making progress, with their women's-only swim times for instance, the school needs to make more of an effort to accommodate the unique needs of religious students, Aziz says, including more dedicated prayer spaces.
To prove his point, Aziz explained how earlier this school year a dean in the computer science department filed a complaint with an international student complaining about the water on the floors and vanities in the bathrooms. Muslim students in the computer sciences department, with limited time and space, had to perform their ablution, or cleansing, rituals in the building's bathrooms, before praying in a stairwell, something Aziz says is not only less than ideal but also a fire hazard.
Aziz put up posters in the building notifying them of and inviting them to the SUB's wellness room as a possible prayer space alternative, one of the few places large enough to accommodate the amount of students.
"A group of dentistry students got in touch with me just last month asking for my help to get them a dedicated prayer space in their building," he said. "They're busy students and can't take time to travel to prayer. The classroom they're using now, kindly opened up by a prof for them, is comically small. I thought it was a foyer to the prayer room the first time I saw it."
During his time at Dal, Aziz has been very involved in getting support for religious students including kosher and halal food at orientation week and nightly free food servings during Ramadan, open to all students. His main concern is who is going to care once his presidency is over and he's off at law school.
"The equity and accessibility offices need to get on this and make more services and spaces available. Proper channels need to be set up to deal with these issues. It's not one person's job to care about this," says Aziz.
Pam Williams, manager of the International Centre at Dal, said the university has no current plans to expand the quiet spaces available on campus.
"I'm not aware of any increases to quiet space. In new buildings, this is the kind of thing, quiet spaces and such, the university is acutely aware of providing and including."
Nikki Comeau, communications officer for Dal, said in an email that the school has a zero-tolerance policy for hate graffiti.
"Hateful behaviour on campus is unacceptable … Diversity and inclusiveness is a priority at Dalhousie. It's part of our strategic plan, Inspiration and Impact: Dalhousie Strategic Direction 2014-18 … We strongly encourage anyone on campus who feels their perspective isn't adequately reflected within campus groups to get in touch with the committee."

Anyone with any information relating to the incidents can contact Dalhousie Security or the Halifax Police directly.