Pride, sadness on display at Tamil war crimes meeting
New Dalhousie Tamil Students Association aims to celebrate culture, talk through trauma of Sri Lankan civil war.
December 3, 2013, 6:33 PM AST
Last updated December 3, 2013, 6:34 PM AST
"We didn't want to leave our country. My parents let me go because they thought they (the government) would come and kill us," said Prapaharan, who is a Tamil from Jaffna, on Sri Lanka's northern tip.
Prapaharan lost eight family members during the war. He says he wants to know what happened.
"At the end of the day, we lost our families. Who did it?" asked Prapaharan.
Prapaharan was one of a handful of Tamil community members who gathered Wednesday at the Dalhousie Student Union Building. They were invited on behalf of the Dalhousie Tamil Students Association, which was formed this semester by Jevin Jeyaveerasingam. There are currently 33 registered members.
The association aims to both promote Tamil culture and educate others about the issues facing Tamil people around the world.
Abi Thana, a fourth-year Dalhousie student, has family in Jaffna. Thana said she found the city changed after the war, which lasted from 1983-2009. She said the streets of Jaffna are now dotted with men in uniform. Most carry large guns.
"Not in holsters," said Thana, "but slung over their backs."
Thana said the strong Sinhalese military presence is meant to send a message to the Tamil people: we run things now.
Sri Lankan civil war
Jeyaveerasingam explained that Sri Lanka is home to two distinct cultures: Tamil and Sinhalese.  Each has their own language and religion.  Tamil people subscribe to Hinduism while Sinhalese people subscribe to Buddhism.
Strife between the Liberation Tigers of Tamil Eelam (a militant group known as the LTTE which wanted a separate Tamil state) and the Sri Lankan military resulted in civil war in 1983. The war continued until spring of 2009, when Sinhalese President Mahinda Rajapaksa announced that the LTTE had been defeated.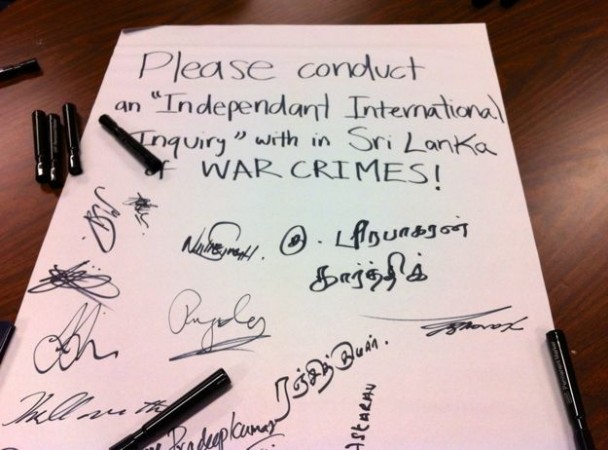 Allegations of war crimes
Though the country is no longer ravaged by civil war, the atrocities committed between 1983 and 2009 have resulted in further strife between the Tamil people and the Sri Lankan government.
While community members at Wednesday's meeting acknowledged that atrocities were committed on both sides during the war, they say the government will not let an independent group come in and investigate the allegations of war crimes.
Vijey Nathan also had family in Jaffna. Nathan says the government killed Tamil civilians under the guise of LTTE.
"If anyone is talking in support of Tamils, the government names them LTTE," said Nathan.
Prapaharan and Nathan are quick to note that their issues lie with the Sri Lankan government, and not the Sinhalese people.
"The Sinhalese people are good people. We have nothing against them," said Prapaharan.
One Tamil man wiped tears from his eyes as he explained that a lot of Sinhalese people are simply unaware of the atrocities committed by the Sri Lankan government against the Tamil people.
Aftermath of the war
Kothai Kumanan's family is also from Sri Lanka's Northern Province. Kumanan says her parents came to Canada as students, with the intent of returning to Sri Lanka once they finished school.  But her parents found Sri Lanka had changed so much in the five years they were gone, they decided to immigrate to Canada.
Moving forward  
Jeyaveerasingam says the association's next event will focus on celebrating the Tamil culture. He is hoping to both preserve Tamil culture for those from Sri Lanka, and also to share their culture with others.
Jeyaveerasingam says he would also like to facilitate more discussion on the issue of war crimes.  He put forth a petition asking for an independent international inquiry into the allegations of war crimes in Sri Lanka.