Prof looks to make lithium-ion batteries that last a lifetime
Jeff Dahn's research could be answer to energy shortage and storage question
December 4, 2013, 8:24 PM ADT
Last updated January 4, 2014, 4:20 PM ADT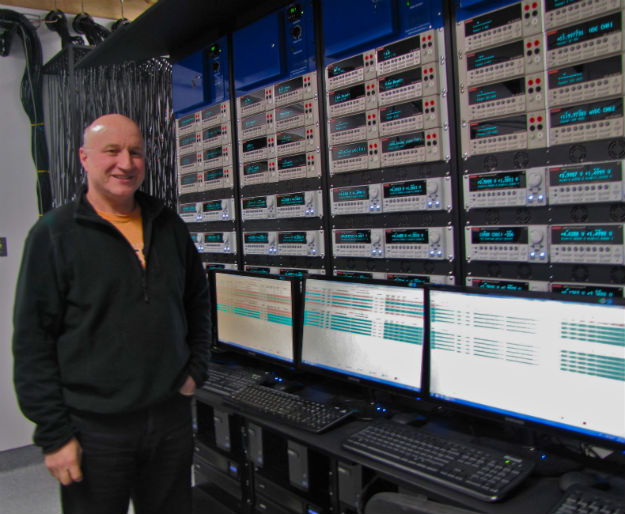 Jeff Dahn is a busy man. When he isn't teaching his class of 500 students, he spends most of his time studying lithium-ion batteries.
You may not realize it but when using your laptop, iPod, cellphone, camera or cordless tool, you're actively using research that a Dalhousie physics professor helped to produce.
"Do you like your phone? Do you find laptop computers quite useful? Well none of those would exist without the lithium-ion battery," said Jeff Dahn, a professor in applied physics and materials experiments.
He is a Canada Research Chair in Battery and Fuel-cell Materials as well as the NSERC/3M Canada Inc. Industrial Research Chair.
Dahn is one of the pioneering developers of the lithium-ion battery now used worldwide in everything from laptop computers to electric vehicles. He has worked in this area since 1978.
He now aims to increase the lifetime and safety of these battery cells while decreasing the cost through advanced diagnostic testing.
Using high precision chargers Dahn tracks how much a battery degrades during each charge and discharge in order to project how long the battery will last.
He's also screened different additive electrolyte chemistries in lithium-ion cells: small chemicals to change the surface films on the electrode materials of a cell so that they will become less reactive with the electrolyte during operation, allowing the battery to last longer.
With $6.2 million in funding, Dahn is partners with 3M and 3M Canada, as well as Medtronic Corp., GM and Magna.
"We're not playing around in some academic space that has no bearing to reality," said Dahn, who travels to Warren, Michigan, to talk to General Motors Dec. 10, in order to present his most recent work.
"We've been able to make lithium-ion cells that are better than what's in cars currently."
Having already presented it to Magna on Nov. 19, he said, "their staff were impressed, wanting to put the new chemistry to evaluation rapid testing right away."
One thing Dahn and his students have already made marketable is a positive electrode material called lithium nickel manganese cobalt oxide.
Thirty-five per cent of all electrode materials use lithium ion cells with the material, which was invented at Dalhousie in 2000, Dahn said. That represents 20,000 metric tones of material every year that's used in 35 per cent of lithium ion cells around the world.
Doug Staple, a Killam post-doctoral Fellowship with the Department of Physics and Atmospheric Science at Dal, said, "the writing is on the wall for lithium- ion batteries in terms of competing storage technologies."
However, "You need it with transportation," he said after a lecture on solar power at the Museum of Natural History, Monday night. "Not only for cellphones and laptops but for example if you want to run a really good car you've got to have a good battery and the lithium battery can do it."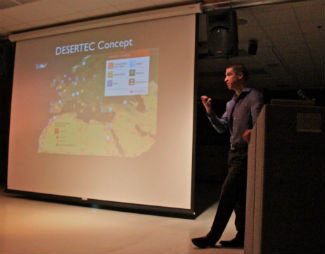 Dahn's research team usually consists of 25 graduate and undergraduate students all working on individual research projects.
Connor Aikin has been a member of Dahn's team for the past three summers and is currently working on his undergraduate Honours Thesis within the group.
Aiken is studying gas evolution in cells or the explanation as to why some vacuum-sealed cells start to expand, resulting in cells that are shot.
Dahn relates it to a recent Samsung Galaxy S4 recall in Europe in which batteries were doing just that.
Aiken measures the gas in the cells by weighing them underwater, developing a software program that has the instruments charging and discharging while measuring their volume via their weight as they operate.
"The cool thing with Jeff is that he does this stuff because he cares about bettering the standard of living and stuff like that. He wants to be able to provide people with storing energy in a clean fashion – like electric vehicles are a part of our motivation here, to get away from combustion," said Aiken.
Dahn said he has attributed so much time to one project because he wants to produce valued work for the public research money he is awarded.
"I've always viewed the role of the scientist that gets funding from the taxpayer to give something back. You have choice of what problems to work on. Why not work on something that's challenging that also has a payback?"
And from an environmental standpoint his research could make a drastic difference.
Mike Wilkinson, the environmental services manager with facilities management at Dalhousie, has recently taken over collection of used batteries on campus.
Last year he sent off six, 210-litre packages – the size of large oil drums – filled with different types of dead batteries.
"If you consider a city the size of Halifax and how many batteries each individual uses on average per capita, that's a lot of batteries a year – it's huge," said Wilkinson.