Program encourages female student leadership
Mend the Gap provides mentorship to encourage women to run for student council
January 23, 2013, 1:56 PM ADT
Last updated February 3, 2013, 10:16 PM ADT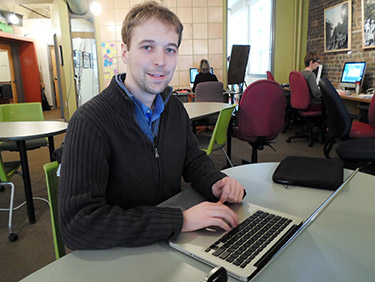 When Students Nova Scotia held a student leader conference in May there was only one female president at a table with five men.
Jonathan Williams, the organization's executive director, was concerned about the lack of female representation.
"Student unions are the only democratically legitimate organizations representing young Canadians," he says."It becomes particularly problematic that the people that are running those organizations are overwhelmingly men."
StudentsNS represents students at six universities including Acadia, Cape Breton, Dalhousie, Saint Mary's, St. Francis Xavier and the Atlantic School of Theology. That's roughly 85 per cent of students in the province. Only Cape Breton University has a female student union president.
The organization doesn't represent King's College, MSVU and NSCAD. Only NSCAD has a female president. Statistics from the Maritime Provinces Higher Education Commission show that 58 per cent of students in Nova Scotia are women. The proportion of women in student politics doesn't equal their representation in the universities.
Mend the Gap is a new program that is researching this issue and encouraging women to get involved in student government. It's run by StudentsNS on a $10,000 government grant from Democracy 250.
Jesse Smith is a student at SMU studying French who is volunteering to plan workshops for Mend the Gap. She's inviting women in leadership positions to the university in order to speak about their experiences.
 "Most people don't actually know and realize how underrepresented women are in student politics in Nova Scotia," she says.
She hopes these workshops and events will help encourage a dialogue on campus about the issue.
"I think just opening the dialogue and asking women and encouraging women to even consider why is a big part of figuring that question out," she says.
The program will connect women with mentors that used to hold positions on student councils, such as Joanne Macrae. She runs The Hub and was a VP Academic at the Dalhousie Student Union. If women want a mentor they can visit Mend the Gap's website and send them an email.  Williams says student unions represent a large number of people, have a substantial budget and make significant decisions.
"It shouldn't be surprising that frequently the people that hold those positions in their youth end up being civic leaders later in their careers," he says.
Williams says StudentsNS won't take sides in student elections but will provide support for students in the form of a mentorship program.
He also says some council positions tend to be gender specific. A man often fills the president's position while other positions on council are more equally divided.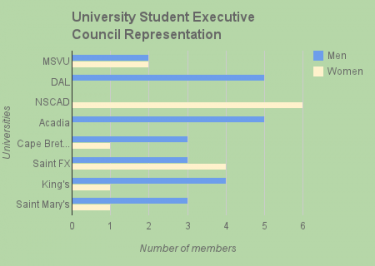 Kayti Baur is studying psychology at MSVU. She's volunteering to conduct research for Mend the Gap and sees the lack of women in student politics as a perennial problem.
"It appears that women are just simply not running as often as men or for a large variety of positions as men," she says.
She held a brainstorming session with students from a variety of universities to get their opinions. Baur found that a major problem was the student's lack of knowledge.
"Universities aren't really advertising the best way to get involved in student politics," she says.
She adds that people didn't know that council positions are paid, the responsibilities associated with each position and how these skills can be useful for future careers.
"Basically they just don't feel encouraged to participate in the process and that's something we're really trying to address."