Protest at Dal honours victims of transgender violence
Crowd at Dalhousie paid tribute to victims worldwide
November 20, 2014, 10:41 PM ADT
Last updated November 20, 2014, 10:41 PM ADT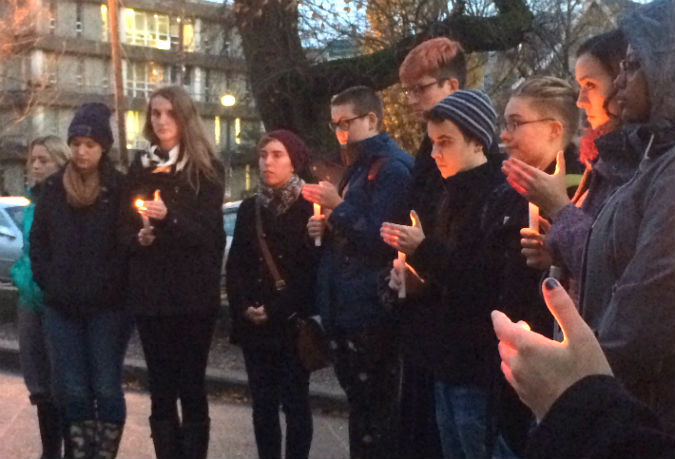 A crowd of students gathered around a blue, pink and white striped flag, and bowed their heads.
Thursday is the 16th annual Transgender Day of Remembrance, in memory of those who were killed because of their gender identity. DalOUT held a service in front of Dalhousie University's Killam Library to commemorate the sober occasion, attended by 23 students.
University of King's college student Jessica Durling spoke at the event, remarking that over the last decade, more than one person has died as the result of anti-transgender hatred, prejudice and violence per month, not including those who take their own life.
The Trans Murder Monitoring Project estimates that 226 people were killed worldwide in the past year alone due to violence against transgender people.
"These are not statistics, these are human beings," said Durling. "They died because their genitals didn't match their gender. How stupid is that?"
Currently, only the Northwest Territories, Ontario, Manitoba, Nova Scotia, Newfoundland and Labrador and Prince Edward Island have laws explicitly protecting transgender people. There is currently no federal protection in Canada for the transgender population.
After Nova Scotia passed Bill 140, or the Transgendered Persons Protection Act, in December 2012, Durling says she was nearly kicked out of school.
"If it (passed) even six months later, I would have been expelled from grade school for my trans status," she said.
After a moment of silence, several students headed to Victoria Park, where they met up with a larger group, lit white candles, and made their way to St. Matthew's United Church for Halifax's Transgender Day of Remembrance ceremony.
"Being a trans person, and seeing the violence that, trans people, especially trans people of colour, face every day, (the event) is something I need to be going to," said a person who identified themselves as Pat, a King's student.
History
Transgender Day of Remembrance is held annually on Nov. 20. It started in 1999 as a candlelight vigil in San Francisco, held in remembrance of Rita Hester, who was murdered on Nov. 28, 1998. Like many transgender murders, Hester's case is still open.
"Today is a day to rage in grief and remember the people who have suffered a legacy of  violence and have had and continue to have their bodies policed, brutalized, targeted and destroyed," said Carmella Farahbakhsh, South House administrative and volunteer co-ordinator. "We want to remember this ongoing violence so we can keep resisting and fighting for safer spaces in a safer world."