Province needs a science adviser: academics
Dalhousie profs think adviser would be "fantastically useful" for policy makers
December 12, 2014, 11:18 PM ADT
Last updated January 12, 2015, 5:11 PM ADT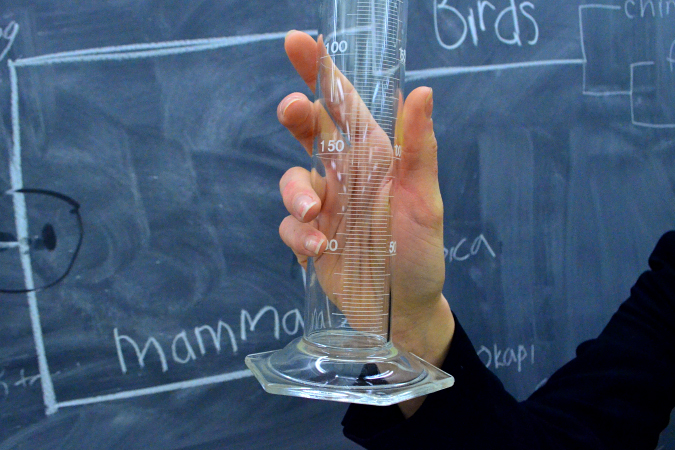 Jeff Hutchings thinks science should have a place at the cabinet table in Nova Scotia.
Hutchings, a biology professor at Dalhousie University, is one of several members of the scientific community who are critical of the model by which politicians currently engage with scientists.
When the province wants scientific advice it typically appoints a special panel, which it charges with producing a report.
The problem? "It's uncommon for governments to solicit advice," says Hutchings.
Such reports ultimately languish on the desk of a government minister.
"I've seen many very good reports that get lost within the bureaucracy," says Hutchings.
He believes the province should appoint a chief scientific adviser: a senior bureaucrat with a team of staff assistants, who would serve as an efficient conduit of scientific knowledge to cabinet.
He emphasizes the need for accessibility and the potential for scientific information to be shared with policy makers even when it isn't solicited, which doesn't happen much under the panel model.
"Let's say the energy minister wants to talk about something. He says to the science adviser,  'Can your office come up with information on this?' Or  'We're just wondering about this,' or 'We've heard this – could you look into that further for us?'"
"It doesn't mean they will follow that advice,"says Hutchings, "but that's fine."
"It symbolically and practically allows for a very high level of advice to be provided," he adds.
The panel model
The recent Wheeler panel, whose findings on hydraulic fracturing in Nova Scotia were released at the end of August, serves as case study on the limitations of the current model.
The report recommended further study on the effects of fracturing. The provincial government, however, decided to ban high-volume hydraulic fracturing.
Ian Stewart, a history of science and technology professor at the University of King's College, took a keen interest in the process of the province's deliberations on the issue.
"One of the many problems that rose out of that whole process," he says, "was that there was no independent moment at which the government could adjudicate or analyze that report."
The Wheeler report was destined for the desk of environment minister Andrew Younger. Younger was criticized at the time for analyzing the 387-page document in less than a week, before announcing the ban on high volume hydraulic fracturing.
Arguably, the scientific findings got subsumed by the political element of the entire process. Stewart says "there was no question" that public opposition meant the province was never going to go ahead with hydraulic fracturing, regardless of what the report suggested.
Of course, government ought to represent the will of the people, right?
But it's more complicated than that. The province is still going ahead with coal bed methane fracturing.
"Some scientists say that's an even more dangerous kind of fracking," Stewart points out.
When the province introduced its ban on hydraulic fracturing, people on both sides of the issue were up in arms. The business lobby was up in arms about the lack of due process, says Stewart. Those opposed to fracking were up in arms because of what they saw as the more dangerous type of fracking getting the green light.
"That's a point where a provincial science adviser would have been great," says Stewart. "Somebody who was genuinely arm's length."
At the time, former NDP cabinet minister Graham Steele suggested that the findings were highly convenient to the Liberal government.
"There's something in the Wheeler report for everyone," wrote Steele.  "Both supporters and opponents can see what they want."
He suggested the Nova Scotia Liberals handed their counterparts in New Brunswick a break in their timing of the report, which occurred during the New Brunswick provincial election. Liberal leader Brian Gallant had staked his campaign on opposition to fracking.
"Some people would say this was party politics getting in the way of sober reflection," Stewart says.
The federal narrative
Criticisms of the current system in Nova Scotia are set against a backdrop of even deeper-seated mistrust at the federal level.
In 2012 Hutchings joined a rally of thousands on Parliament Hill in Ottawa who were protesting what they saw as the federal government's muzzling of science.
Hutchings says governments are failing to seek scientific guidance in situations where they would have in the past.
The protesters' grievances originated in the federal government's 2008 decision to eliminate the office of National Science Advisor, which between 2004 and 2008 reported directly to cabinet.
The federal government phased out the office in favour of the the the Science, Technology and Innovation Council, which was created in 2007 and instead reported to two individual ministers.
The mandate of the 17-member council is to advise on science, technology and innovation policy issues "that advance Canada's economic development and societal well-being." The current council includes representatives from business, government and academia.
Hutchings argues that in reality the council has a relatively narrow purview when it comes to the breadth of issues that science deals with. The focus on technology and innovation privileges the economic value of science over the public good, he says.
"There's utility in having that type of advice. But one needs to acknowledge that it's a fairly narrow remit when one compares it to what a chief science adviser would do."
You'd be forgiven for assuming a council of 17 would be more capable than a single chap in a white lab coat, though.
"Think of the office of science adviser as a conduit of science from expert sources both national and international, government and non-government – directly to cabinet,"  suggests Hutching. In other words, it's a question of efficiency – and of not getting tangled up in potential conflicts of interest.
Hutchings' other criticism is that the council doesn't report directly to cabinet. Any information offered up by the council must go through one of the two ministers under whose purview it falls. The onus is on them to pass things up the chain of governance.
A policy vacuum
Stewart draws strong connections between the implementation of federal policy and provincial policy.
At the federal level, he argues, "science in the public interest" — such as environmental monitoring — is on the wane.
"That kind of science, which can have to do with the health of our air, our water, our soil – but also social health – that kind of science is very much being cut back."
The result, Stewart says, is that a vacuum is being created within provincial jurisdictions.
He says an office at the provincial level is needed to deal with this "more challenging situation."
Policy areas in Nova Scotia
National policy issues are local issues anyway, says Hutchings. Pollution, effluence from pulp and paper mills, mining, renewable energy supplies, tidal power — these are just a few of the issues on which a provincial science adviser could advise. There's also Hutchings' area of expertise: marine organisms, which perhaps "we are not harvesting — sustainably — to the extent that we could be."
Thomas Duck, a professor of physics and atmospheric science at Dalhousie,  says there's a broader link between federal and provincial policy decisions. He thinks the need for a chief scientific adviser comes down to increasing the availability of information, which is necessary at both levels of government.
Duck cites the field of climate science in particular.
"You hear some strange things said [by politicians]," he says. "MPs and MLAs who really don't understand climate change could use scientific advice," he says.
Like Stewart, Duck thinks there's a gaping hole in federal policy that could be filled if provinces stepped up.
The Wheeler report may have been "useful" he says, but he agrees that a better framework was required for government to interpret its findings.
Appointing a chief science adviser
"It would be fantastically useful to government," says Hutchings.
He envisions cabinet going to the chief science adviser and saying: "We're considering A, B and C as potential policies – what are the potential strengths and weaknesses or risks and uncertainties associated with each of these potential policies?"
"That's the kind of advice that I think is ultimately ideal for government," says Hutchings. "Government ought to show that they've considered the objective analysis of a scientific adviser, even if they don't follow it." That means having someone at the table year round, not just putting together the occasional panel of experts.
It's also a plus for politicians.
"If they have science imbedded at the highest levels, they're going to be taken more seriously," he says.